Blog » How to Guides » Life Coach Salary: The Definitive Guide
LIFE COACH SALARY
The Definitive Guide (2023)
This is the definitive guide on life coach salaries in 2021.
In this comprehensive guide, I will cover:
How much you can earn as a coach
What your salary depends on
How you can increase the salary you can command as a coach
How to maximise what you can earn from your coaching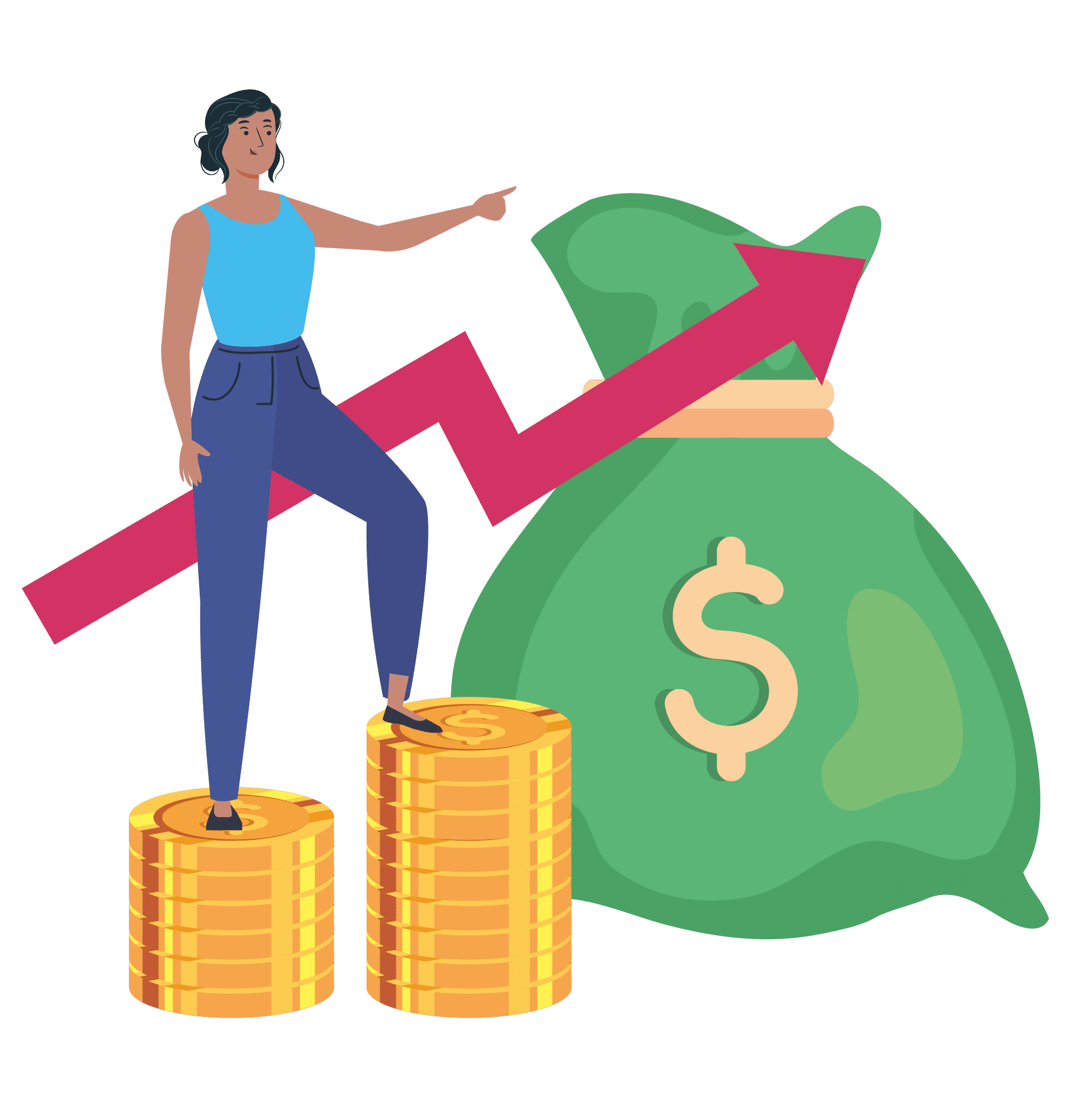 So if you're looking to switch careers and become a life coach, or want to supplement your current salary, this guide will give you a complete understanding of what to expect.
Let's jump right in!
Don't have time to read the whole guide right now?
No worries. Let me send you a copy so you can read it when it's convenient for you. Just let me know where to send it (takes 5 seconds)
Yes! Give me my PDF
The Fundamental Questions
Many people who are curious about taking up life coaching as a career have a lot of questions related to the salary of a life coach.
The demand and viability of the career, the niches within life coaching and their respective salaries, and — at the heart of this article — the question about whether life coaching really pays.
Where do you even start?
Don't worry — I have done all the legwork for you.
First, let's start with a few fundamental questions.
What does a life coach do?
The International Coach Federation (ICF), the foremost global Coaching organisation, defines coaching as "partnering with clients in a thought-provoking and creative process that inspires them to maximize their personal and professional potential"
At its very core, life coaching is about helping clients tap into their full potential by asking the right questions to help the client find the appropriate answers within themselves.
If you're all about helping people set and achieve their goals — this is the perfect industry for you!
Most importantly:
You will help enhance the quality of life for clients, and help them live a happier and more fulfilling life.
Your role as a life coach would involve a three-pronged approach to your clients:
Guidance — to help clients eliminate negative patterns, navigate obstacles and pursue constructive goals.
Empowerment — to help clients realise their self-worth and affirm their self-belief.
Improvement — to improve their strategies in achieving their goals.

So how many people are really looking for a life coach?
Read on and you might just be surprised by the numbers!
What is the demand and viability of life coaching as a career?
According to the 2020 study conducted by PricewaterhouseCoopers, the estimated global total revenue from coaching in 2019 was $2.849 billion USD, representing a 21% increase over the 2015 estimate.
The demand for personal and professional coaches is on the rise lately as mentioned in the January 2021 article 'LinkedIn Jobs on the Rise: 15 opportunities that are in demand and hiring now', in which the career is ranked at #10 — right up there with healthcare supporting staff, education professionals and digital content creators.
I'll come back to the original question — how much does a life coach earn? — in just a minute.
Let me take you through some key facts and statistics first:
The number of life coaching businesses in the USA is 18, 000+ and industry employment stands at 17, 600+.
The International Coach Federation boasts of 53,300 members and is on a steady growth trend.
From Ivy League schools like Yale and Harvard to state schools like Penn State, more than 30 universities have recently added life coaching programs to their curricula!
92% of life coaches remain active in the field, suggesting a promising future in terms of opportunities.

I have tons of stories of life coaches and their work to share with you, but if there's one that really drives home the burgeoning demand for life coaching as a career — it's this one:

A couple on the lookout for a life coach for their three young children was willing to offer $100,000 to the right person for the job including full benefits, a car, a phone, rent-free accommodation for the first six months, and even a yearly ski pass!

Not every single life coaching job might come with such a long list of benefits (especially at the beginning of your career), but there are a few standard things you can expect.
Life Coaching: What to Expect
As an expert in the life coaching industry, you will be helping clients discover what their personal 'best' is and suggesting steps that will take them in that direction. You can help them define goals for themselves, identify obstacles along the way and create strategies to overcome these obstacles.
Broadly speaking, here are the three phases of life coaching:
Phase 1: Initially, you will gain an overall understanding of the client's life and goals, before zeroing in on the specific area they seek to improve.
Phase 2: Larger goals will then be broken down and simplified into more achievable objectives.
Phase 3: It is then up to the client to take away the techniques from the sessions and apply them in their lives for personal and professional development.
The bottom line?

Life coaching is a two-way street — a real partnership between the life coach and the client! As a life coach, you are changing people's lives and it is rewarding indeed to see the impact of your work.
As a life coach, you have the power to help people ask the right questions, make life-changing decisions and ultimately alter the route of their lives. You know what they say — with great power comes great responsibility.
Responsibilities
As a life coach, here are some responsibilities you can expect to take on:
Listening: To lend a listening ear to properly understand the client's values and beliefs and help them take steps towards their goals accordingly.
Inspiring: To motivate clients throughout the process.
Increase productivity: Use techniques such as mindfulness to help clients manage stress and amp up productivity levels.
Evolving: Fine-tuning strategies over time to help them based on their response.
Contract: Mutually agree upon a coaching contract with your client regarding the details of the engagement, including the number of sessions, confidentiality and working within a Code of Ethics.
That brings us to the next question you might have — what about the number of working hours you will dedicate to your career in a week?
Working Hours
Here's what you need to know about the working hours of a life coach: you can get to choose based on what works for you. In case you are working with an organisation, your working hours will depend on your organisation's policies.
Here are some key insights:
Self-employment: In all likelihood, you will be self-employed, so your work hours are up to you. Many clients want to talk over the phone or meet in the evenings or over the weekends, so you can expect appointments then.
Healthy boundaries: This line of work is pretty emotionally taxing. So make sure you cap your weekly hours of client contact per week, to maintain healthy boundaries for your own well-being.
Handling various aspects of the business: As a life coach, you will wear many "hats". Besides the actual life coaching sessions, you will also spend a considerable amount of time on the marketing aspect of your business — building your reputation, networking with agencies and potential clients and so on. More on this aspect coming up in just a bit!
Irrespective of the number of hours you put in, life coaching is an inherently very gratifying profession — especially if you are passionate about bringing about a positive change to people's lives.
So what are the skills you need to possess to be a life coach?
Skills Required
There are certain skills that will help you succeed as a life coach, such as:
Have an excellent understanding of coaching frameworks and theories of positive psychology, plus the ability to apply them practically.
Highly-developed listening, observational and communication skills.
The ability to take an empathetic and non-judgemental approach towards your clients.
The ability to inspire clients, while retaining the right to challenge them occasionally.
Top-notch organisational skills to manage the client base and related paperwork.
A basic understanding of online advertising, and networking skills for spreading the word of your business in the coaching industry.
Next up, I am going to be answering a burning question that has probably been on your mind.
Does life coaching pay?
According to the 2020 study conducted by PricewaterhouseCoopers, the estimated global total revenue from coaching in 2019 was $2.849 billion USD, representing a 21% increase over the 2015 estimate.

As with any profession, those starting out with life coaching as a profession will charge lower than those who have years of experience.
Sometimes, a long-term perspective is the need of the hour; if you are new to the industry, it makes sense to start from a low price and then gradually increase your fees as you gain experience.

According to Payscale, the average base hourly rate in the US is $32.10 currently.
On an average, a full-time employee in the United States works 1,801 hours per year, or 37.5 hours per week.
If you take the hourly rate and multiply it by the average number of hours a life coach works in the US,
$32.10 X 37.5 hours = $1,203.75/week
That comes up to $4, 815/month or $57, 780 annually.
Not too shabby.
Bear in mind, that many life coaches work as a life coach only part-time and perhaps with an organisation; so, if you are self-employed as a life coach, you can determine both your work hours as well as your rate.
Also these rates vary widely and this is just the average. Even moderately successful coaches can make much more than this.
If all of this sounds exciting to you, you might be all set to kick off the process of becoming a life coach.
You might be wondering — what's next? How do you get started?
Well, to begin with — establish your niche.
How Your Niche Affects Your Earning Potential
It is estimated that over 90% of coaches who are just starting off fail because they do not have a niche.
A strong building needs a strong foundation. And just like that, if you want to build your coaching business to great heights, you need to lay a strong foundation for it.
An effective niche is that strong foundation.
What is a niche?
A powerful niche is a clean simple statement which includes two things:
WHO do you want to target?
WHAT do you want to do for them?
Let's take an example.
Suppose that you are a career coach. You decide to target women belonging to the age range of 20-25. That is your demographic.
Now you need to find out "WHAT do these women WANT?"
You decide to tailor your coaching services to those who want to increase their salary by 25% in the next year.
That means, your:
WHO = Women between the age of 20-25
WHAT = Women who want to increase their salary by 25% in the next year.
Now combine the WHO and the WHAT components and that's your coaching niche.
Your Coaching Niche = Who + What
i.e. Coaching for women between the ages of 20-25 who want to increase their salary by 25% in the next year.
Watch this video to know how to identify a powerful niche.
How to Choose a Target Market
Here are a few things to consider while choosing a target market:
Research if the target market is large enough, so that you can ensure you don't run out of leads and can sustain the growth of your business.

Your target market should be easy to find, so that your marketing can reach them effectively.

People who are motivated by the result you are offering them through life coaching.
A target market should consist of people who are able to pay for life coaching services.
Coaches who pick the correct niche and target market for themselves end up making more from their career.
What are the different life coaching niches?
The life coaching niche that you choose will decide your life coaching salary to a large extent.
Let us go through some of these niches and what their respective salaries are:
Career coaches help their clients identify goals, develop leadership skills and plan career moves. On a day-to-day basis, their role may include helping clients search for new employment opportunities, providing feedback on resumes or cover letters and strategizing for a job interview.
According to Indeed, the average salary for a Career Coach is $16.06 per hour in the United States.
An executive business coach will guide a business owner in running their business by helping them gain clarity of their vision for the business, and will help them achieve their goals professionally while keeping in mind their personal goals as well.
According to Indeed, the average salary for a Business Coach is the average salary for a career coach is $21.19 per hour in the United States. This niche usually pays the highest.
Health and Wellbeing Coaching
A health and wellbeing coach supports and guides clients in setting health-related goals — such as in deciding whether to lose weight, improve energy, how to better manage stress, and so on.
The average salary for a health coach is $15.36 per hour in the United States, based on data from Indeed.
Personal Development Coaching
A personal development coach focuses on the client's self-awareness, their life goals, and personal challenges. This niche assesses the client's strengths and weaknesses to improve certain areas of their life.

The average salary for a personal development coach is $14.36 per hour in the United States, based on data from Indeed.
Relationship coaches support couples in acquiring skills for healthier marriages and romantic relationships; they help with dealing with intimacy issues and resolving conflict.
The median salary for a relationship coach is $35.29 per hour, according to PayScale.com. The hourly rate ranges from $11.14 to $125.28.

How much you can charge depends on the paying capacity of your niche and how painful a problem you solve for them. The 2020 Executive Coaching Survey shows that experienced executive coaches can now earn a whopping $450/hour.
Let me address the question at the crux of this article now.
How much can life coaches earn?
By now, I have covered the answers to the fundamental questions.
Now that I've looked at the demand and viability of life coaching as well as the various niches of the profession, you must be wondering what comes next.
Let's cut to the chase and answer the question at the heart of this article.
Here is a look at the average salary and the range of salary of a life coach, as well as the different ways in which they can structure their salary.