Blog » Fundamentals of Coaching » Top 10 Must-Read Books On Coaching Psychologies
Top 10 Must-Read Books On Coaching Psychologies
The field of coaching is growing in popularity, the underlying psychology theory is still in its infancy. Coaching and therapy are quite similar, although therapy has a far larger body of literature to support it. A solid understanding of coaching psychology can help you, coach, more successfully.
Support for psychologists, coaches, individuals, and organizations interested in coaching psychology and coaching services is provided by the Division of Coaching Psychology. They discuss empirically supported findings and insights about coaching psychology.
In this article, we will discuss the top 10 books on coaching psychology.But before moving to our core aim of this article first let us understand what psychology coaching is along with how group coaching books can help a coach to enhance coaching abilities.
Let's Start!
Defining Coaching Psychology
"A subfield of applied psychology called coaching psychology applies psychological ideas and concepts to the coaching profession."
The practice of coaching psychology can be defined as a method for improving performance in the personal and professional spheres, supported by coaching models based on well-established psychological theories of adult and child learning. Coaching psychologists with the necessary credentials, who have also completed the necessary ongoing professional development and supervised practice, practice it. The Society, an international professional organization, accepts that prerequisites for the position of a competent psychologist are based on credentials that have received regional or national recognition.
How Coaching Psychology Books Help a Coach?
Books on psychology coaching teach leaders how to lead and motivate both people and groups. These books address subjects including posing sensible questions, providing feedback, and inspiring teams. These pieces are meant to assist leaders in providing better guidance and raising staff performance. These books instruct leaders on how to incorporate coaching into their daily activities so that it becomes second nature. These books include a variety of fundamental coaching question styles that lead to incisive discussions that enhance performance.
10 Books on Coaching Psychology
These top ten life coaching books will act as your teachers, imparting knowledge and assisting you in developing a completely new perspective on life. Health, prosperity, love, and fulfillment are the four fundamental facets of life that will be covered in these classes. So let's get started.
1. Introduction to Coaching Psychology

Introduction to Coaching Psychology is written by Siobhain, O'Riordan, and Stephen Palmer in 2021. For individuals who are unfamiliar with coaching psychology, including students, trainees, psychologists, and coaches, this collection, which includes chapters by eminent international practitioners, will provide an introduction. Key topics covered in Introduction to Coaching Psychology include the history and development of coaching psychology, the interaction between the coach and the coach, coaching psychology methodologies and models, and themes like evaluation, contracting, and the setup in coaching psychology practice.
Applications in coaching psychology are discussed, along with considerations of working in organizations, dealing with young people, and life and personal coaching. Specific coaching psychology specializations and interventions are also examined. There is also a discussion of professional practice topics like coaching and diversity as well as boundaries and best practices. An overview of the coaching psychology literature is also provided. The book ends with a discussion of the field's future and provides a wealth of case studies to show the application of coaching psychology in real-world settings. Anyone entering the field, as well as coaches, psychologists, and counselors interested in the theory, research, and practice of coaching psychology, will find this contemporary and approachable book to be important reading.
Introduction to Coaching Psychology is available on Amazon for $29.

2. Coaching Psychology: Constructivist Approaches

Coaching Psychology was written by Jelena Pavlović in 2021. Constructivist approaches to individual, group, and team coaching are thoroughly covered in Coaching Psychology: Constructivist Approaches. Jelena Pavlovic lays forth the landscape of constructivist psychology as it relates to coaching by outlining important concepts and exploring a range of models, tools, and strategies.
The book elaborates on important methods of discursive and narrative self-construction after giving an overview of constructivism in modern psychology. With fundamental ideas, operating models, and coaching strategies, a range of constructivist coaching styles are presented, including personal and relational construct, narrative, appreciative, systemic, and solution centered. Along with outlining a framework and instructions for instructing coaches in this method, Pavlovi also introduces a constructivist model for coaching teams that is shown with case studies. For coaches in practice and in training, especially those wishing to comprehend how constructivist approaches can be applied to improve individuals, groups, and teams, Coaching Psychology: Constructivist Approaches offers a cutting-edge resource.
Coaching Psychology is available on Amazon for $19.

3. Constructivist Coaching: A Practical Guide to Unlocking Potential Alternative Futures

Constructivist Coaching is written by Pam Denicolo and Kim Bradley-Cole in 2020. Constructivist coaching, which is based on the Personal Construct Psychology (PCP) theory, is interested in how individuals understand their own lives and "construct" their sense of reality within their social environments. This approach's essential components include interpersonal interactions, social environment, individual thought processes, identity, and active learning.
Constructivist coaching is brought to life for the first time by these knowledgeable authors using a variety of techniques and real-world examples, making it easy for readers to understand the concept and how to use it. To help your coaches gain deeper self-understanding and self-acceptance and to be able to participate in significant change, it is important to work flexibly with them throughout the coaching process. With a variety of examples provided, the techniques discussed in the book can be applied flexibly in a variety of circumstances, either as a comprehensive coaching philosophy or as an addition to your current coaching tools. For coaches, managers, occupational psychologists, and anyone else interested in fostering others' personal growth and learning, Constructivist Coaching is a priceless practical resource.
Constructivist Coaching is available on Amazon for $34.

4. The Art of Dialogue in Coaching: Towards Transformative Exchange (Coaching Psychology)

The Art of Dialogue in Coaching is written by Reinhard Stelter on September 18, 2018. Reinhard Stelter encourages readers to have productive and transformative conversations in their daily work lives and gives them the philosophy and skills to do so in The Art of Dialogue in Coaching.
The book gives a thorough review of the value of dialogue and the various ways it may be used. It is divided into three parts. The coaching process' sociological backdrop, the concept of identity in contemporary culture, and third-generation coaching as a collaborative conversation form are all examined in Part I, Theoretical Basis. The importance of meaning-making, value, and the narrative viewpoint in fostering a new dialogue culture is examined in Part II, "Basic themes of constructive dialogue."The skill of being a helping dialogue guide is finally explored in Part III, Reflections on dialogue practice, which focuses on building relational competencies while drawing on a variety of theoretical views. Stelter emphasizes the importance of taking the time to linger and demonstrates how discourse gives us a framework for conducting ourselves in the world with personal integrity.
Coaching psychologists, and professionals with a coaching role, including mentors, consultants, and leaders, will all find The Art of Dialogue in Coaching to be an indispensable resource. It will particularly appeal to individuals who want to use dialogue as an artistic endeavor to improve their work as co-creative and collaborative facilitators.
The Art of Dialogue in Coaching is available on Amazon for $36.

5. Positive Psychology Coaching in Practice

Positive Psychology Coaching in Practice is written by Suzy Green and Stephen Palmer in July 2018. With the finest of science and practice, cutting-edge research, and an emphasis on how each component applies to coaching, Positive Psychology Coaching in Practice offers a thorough overview of positive psychology coaching. This book is a distinctive resource for individuals looking to include positive psychology in their evidence-based coaching practice because of its diverse international contributions.
The book includes an evaluation of well-being theories, an analysis of mindfulness research, a reference to pertinent neuroscience, and a study of a strengths-based approach. It starts with an outline of positive psychology coaching. Additionally, chapters on the use of ACT, the function of positive psychology in coaching for resilience and wellness, positive leadership theory, and developmental psychological theories as they apply to coaches through big life transitions are included. Each chapter includes a case study and a thorough examination of theory and research that is then applied directly to coaching practice. The editors' opinions on the future paths of coaching using positive psychology are presented in the book's conclusion.
Coaching psychologists, positive psychologists, academics, and students of coaching, coaching psychology, and positive psychology will all find Positive Psychology Coaching in Practice to be essential reading for improving their evidence-based practice as professional coaches in practice and training.
Positive Psychology Coaching in Practice is available on Amazon for $31.

6. Coaching Psychology for Learning: Facilitating Growth in Education

Coaching Psychology for Learning is written by Wang Qing in 2018. Coaching psychology is increasingly recognized for its value in educational settings. In this current work, coaching psychology is introduced as a facilitative strategy to assist learning across a range of educational contexts.
Conveniently divided into three sections, Coaching Psychology for Learning: Facilitating Growth in Education includes:
Following a thorough explanation of educational paradigms, learning theories, and coaching psychology theories, Part One covers significant coaching studies that have been used in the field of education and highlights several gaps that coaching psychology for learning can fill;
Two empirical participatory studies of coaching psychology for learning are shown in Part Two; they are based on both doctoral studies done in the UK and educational work done in Mainland China; two unique and evidence-based coaching approaches are also illustrated;
By examining the nature of educational coaching, including the environment, goal, processes, and people and their interactions, Part Three consolidates the empirical data and unique coaching models.
While the empirical studies in Part Two are especially helpful for undergraduate and postgraduate students, they also provide real-world examples of how to conduct coaching psychology research in the field of education, in both the West and the East. Part One's review of learning theories and coaching psychology theories enables the reader to quickly understand coaching psychology and its role in education. To help educational psychologists and coaching psychologists who want to concentrate their professional activity on education, the book also gives guidance on design and implementation issues.
Coaching Psychology for Learning is available on Amazon for $31.

7. Very Brief Cognitive Behavioral Coaching (VBCBC)

Very Brief Cognitive Behavioral Coaching is written by Windy Dryden in 2017. Very Brief Cognitive Behavioral Coaching (VBCBC) is a novel method of coaching from a cognitive behavioral viewpoint that takes place throughout one to three sessions, as described by Windy Dryden in Very Brief Cognitive Behavioral Coaching. The method is intended to assist coaches with identifying at least one significant goal, discussing and choosing a course of action to accomplish it, and, if required, overcoming challenges they encounter along the way.
The Very Brief Cognitive Behavioral Coaching (VBCBC) approach's fundamental tenets are presented in the book, along with suggestions for when it should and shouldn't be applied in light of working alliance theory. In his introduction, Dryden defines coaching and explains the goals of VBCBC. He then looks at the input components that can boost this efficiency and ends with a seven-stage process view. A transcript of an actual BCBC session with commentary is also included in the book.
For coaches of all backgrounds interested in brief approaches, including those in training, coaching psychologists, and coach supervisors, this will be required reading due to its straightforward and approachable writing style.
Very Brief Cognitive Behavioural Coaching is available on Amazon for $39.

8. Coaching Psychology: A Practitioner's Guide

Ho Law wrote Coaching Psychology in 2013. An in-depth examination of the applications and common difficulties encountered by coaching and mentoring psychologists in the real world is provided in Coaching Psychology: A Practitioner's Guide. The practitioner's handbook, created as a complement to The Psychology of Coaching, Mentoring, and Learning, goes more extensively into the practical aspects of coaching and mentoring. For coaches, mentors, psychiatrists, and other professionals interested in this rapidly expanding sector, this is the first book to use the Universal Integrated Framework (UIF) for coaching and mentoring as a practical guide.
Coaching Psychology is available on Amazon for $40.

9. Handbook of Coaching Psychology: A Guide for Practitioners

The Handbook of Coaching Psychology was written by Alison Whybrow and Stephen Palmer in 2007. This new field of professional activity is seen from a clear perspective in The Handbook of Coaching Psychology. The book opens with a collection of true stories and personal anecdotes about the development of coaching and coaching psychology throughout history and the present. Leading coaching psychologists and coaches, including Stephen Palmer and Alison Whybrow, highlight current trends in the field and give readers clear explanations of how eleven various psychological theories might be used in coaching practice.
solution-focused l Coaching
Coaching that is systems-psychodynamic and psychodynamic
Narrative instruction
Coaching in cognitive behavior.
In the third and last section of the book, diversity and sustainability issues are discussed along with the coach-client relationship, coach development, and professional boundaries. The final section discusses coaching initiatives in organizations and supervision before providing an overview of professional organizations and the tools that are accessible. For working coaches, human resources, and management professionals, as well as anybody interested in the psychology behind coaching, The Handbook of Coaching Psychology is a vital reference.
The Handbook of Coaching Psychology is available on Amazon for $19.

10. Coaching Psychology Manual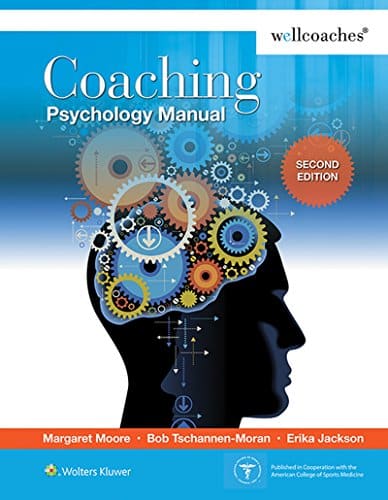 The Coaching Psychology Manual is written by Margaret Moore in 2010. Coaching Psychology Manual, 2e will help you get ready for your Well coaches certification and job as a health and wellness coach. This comprehensive guide covers techniques and concepts for supporting clients in changing the behaviors and mindsets necessary to thrive in all areas of wellness, including fitness, nutrition, weight, mind/body, stress, and management of life issues that impact well-being. It is now in full color and includes examples and real-life scenarios.
Sports medicine's review of the exercise and weight recommendations, the gold standard for accrediting health and fitness practitioners, maintains the guidelines' quality, currency, and correctness.
Examples of coaching dialogues that are relevant to the abilities being addressed provide additional views on efficient coaching techniques.
Important! boxes highlight crucial details for promoting successful and effective client sessions. Don't forget… boxes emphasize important ideas to bear in mind when developing client connections. You get the option to put chapter lessons into practice with review and conversation topics. e Book and Image Bank are online instructors' auxiliary materials.
The Coaching Psychology Manual is available on Amazon for $37.
Conclusion
Psychology coaching books enhance skills of leaders and entrepreneurs to lead and motivate people in achieving their goals. Books on psychology coaching address subjects including encouraging teams, giving feedback and asking pertinent questions. These books are meant to assist managers in improving staff performance and giving better direction. Reading all the books discussed above will make you a better psychology coach.
Frequently asked questions
What is coaching psychology?
A branch of applied psychology called coaching psychology applies psychological ideas and concepts to the coaching profession.
Is coaching a type of psychology?
Yes, Applied coaching models that are based on psychological theories, methodologies, and approaches are used to improve personal and professional performance, development, and well-being in coaching psychology, a separate subfield of academic and applied psychology.
How do I become a coaching psychologist?
For individuals who want to go the academic path, a psychology undergraduate degree and a master's in coaching psychology, organizational development, or clinical psychology can all contribute to the development of the underlying knowledge and present chances for real-world employment in the field.
What is positive coaching psychology?
A method for assisting clients in enhancing and applying their strengths, enhancing their overall well-being, improving their performance, and achieving important goals is known as positive psychology coaching (PPC). A fundamental tenet of PPC is the conviction that science can clarify the optimum methods for growth.