Blog » Coaching Certifications » Popular Podcasts to Follow on Coach Certification Programs
Popular Podcasts to Follow on Coach Certification Programs
Learning and self-development play an essential role in becoming a successful coach. You need to keep learning with the passage of time to understand people's mind sciences, which will help you train them properly.
Being a professional coach, you need to inspire, deliver, motivate, and be like a friend to your clients.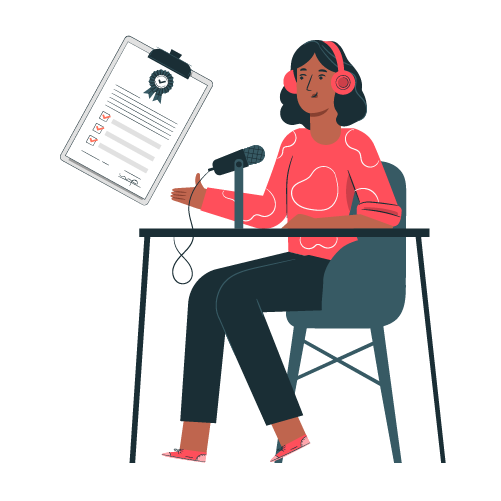 To do this, it is crucial to take every necessary action that would help you in your personal development.
It does not matter how many coaching certifications you have already taken; you still need to learn for better outcomes. And coaching podcasts are a great way to do that.
So, in this article, I will discuss some of the most famous coaching podcasts that will help you grow and thrive in your coaching career.
You just need to follow them closely and implement their instructions.
In Brief: Popular Podcasts To Follow On Coach Certification Programs
The Life Coach School -The Life Coach School, founded by Brooke Castillo, offers a podcast and training program that sets high coaching standards to enhance people's lives.

Online Supercoach

-Online Supercoach, led by AJ Mihrzad, provides a podcast to help online coaches start and grow their coaching businesses.
Make Money As A Life Coach -Make Money as a Life Coach, hosted by Stacey Boehman, focuses on sales and marketing strategies for life coaches, with valuable sales insights.
Your Kick-Ass Life – Your Kick-Ass Life, hosted by Andrea Owen, offers episodes on personal development and coaching, with a focus on life improvement and business growth.

Million Dollar Coaches

– Million Dollar Coaches, led by Taki Moore, aims to help coaches scale their businesses using effective business strategies.

Natural Born Coaches

– Natural Born Coaches, hosted by Marc Mawhinney, helps coaches attract high-ticket clients and grow their coaching businesses with experienced advice.
Coaches Rising Podcast – Coaches Rising Podcast, founded by two friends, offers episodes on coaching techniques and business strategies to increase coaches' value.
The Art Of Coaching – The Art Of Coaching, led by Brett Bartholomew, provides motivational stories and training for coaches from various fields.
The Health And Fitness Coach Success Podcast – The Health And Fitness Coach Success Podcast, hosted by Valerie Elhurr, offers coaching techniques, marketing strategies, and fitness insights.
Coaching To Flourish – Coaching To Flourish, organized by Coaching Education, features episodes hosted by coaches from different industries, making it valuable for life coaches in various niches.
What is a Coaching Podcast?
A coaching podcast is an audio program intended to train and nurture coaches professionally. These programs are led by leading coaches belonging to different industries.
They are pretty similar to radio shows. However, you need to purchase subscriptions for them to join and listen.
Coaching podcasts are a series of episodes, shows, or spoken words that focus on any specific coaching niche.
What are the top 10 podcasts on coach certification programs?
So, are you willing to join any coaching podcast?
If yes, it is surely a great decision!
As a coach, I can guarantee coaching podcasts are worth subscribing to. After attending the podcast, you will see significant growth in your coaching career because of the knowledge they give.
However, if you are confused about which podcast you should join, this short guide will help you out.
I have filtered out the ten best coaching podcasts to help you make a better decision.
Let's get started.
1. The Life Coach School
The life coach school runs one of the top coaching podcasts in the industry. They train life coaches to set top-notch coaching standards that would enhance the lives of thousands of people around the globe.
Broke Castillo is the founder of the organization. She founded "The Life Coach School" with the sole intention of teaching people about different phases of life and how every person can become better in their personal life.
With the passage of time, she also developed an interest in training life coaches and initiated a podcast dedicated to this purpose. She appointed Stephanie Griffin as the Director of the Coach Certification Program. The program has helped thousands of life coaches in the past few years.
From starting life coaching to mastering life coaching, their podcasts cover a wide range of topics.
One of the specialties of this podcast certification program is that every episode is covered by professional life coaches who have achieved brilliance in life coaching.
You should definitely check out their life coaching certification podcast if you are willing to learn from professionals. (https://thelifecoachschool.com/podcast/)
2. Online Supercoach
Online Supercoach has another excellent online coaching podcast certification. The podcast can be streamed on Spotify and Apple.
The primary goal of the entire podcast is to help online coaches get started with their coaching business.
The CEO and Founder, AJ Mihrzad, is a professional life and fitness coach who pays special attention to online marketing and sales processes. He helps coaches grow in their online coaching business by effectively covering the key steps.
So, if you are not good at building and marketing your coaching business on the internet, you should check out the Online Supercoach Coaching Certification Podcast. (https://podcasts.apple.com/us/podcast/the-online-supercoach-podcast-attract-sell-and-serve/id1020528821?ls=1&mt=2)
3. Make Money as A Life Coach
The "Make Money as a Life Coach Podcast" is owned by Stacey Boehman, a life coach specializing in sales and marketing. She is known for achieving millions in sales for different companies and personal products.
Stacey initiated the life coaching podcast to train life coaches for improving their sales process. Her podcast is currently live on Spotify, Stitcher, and Apple.
The podcast is currently on its 162nd episode, and there are pretty exciting things yet to come.
It is undoubtedly perfect for business owners and life coaches who are really good at all the technical stuff related to coaching but are not that good at business development and sales.
Stacey has shared some of her hidden sales strategies in the podcast that has added real value to the subscribers. According to her, she will be sharing the step-by-step sales process in the upcoming episodes.
These episodes will surely be of real value and no coach who is willing to do well should miss out. (https://staceyboehman.com/podcast/)
4. Your Kick-Ass Life
The podcast is hosted by Andrea Owen, a certified life coach, mentor, and author. Her podcast is live on Spotify and Hitcher and you can also view it on her website.
The podcast is currently on the 429th episode and it will be continued for a long time for sure. You can opt to watch it from the start or just join it from where it is right now.
She does both solo and guest episodes in her podcast talking about different life things like perfectionism, self-affection, personal development, etc. Her podcast also talks about other ways to help life coaches in their business growth.
She is also a mom and a family woman who spends most of her time with family. So, she knows more about different stages of life, which makes her worth listening to. (https://www.learnoutloud.com/Podcast-Directory/Self-Development/Emotional-Development/Your-Kick-Ass-Life-Podcast/90430)
5. Million Dollar Coaches
As the name suggests, the sole intention of this podcast is to increase the worth of different coaches by making them impeccable and knowledgeable about coaching.
Taki More is the founder and Director of this organization, who is a business coach and mentor. He is famous for scaling businesses from 6-figures to 7-figures with the right business strategies.
Taki More has also co-authored multiple books on life and business coaching that are meant to increase the worth of any coach.
The podcast is live on Apple and you should consider subscribing to it if you want to scale your business with the right business strategies. (https://podcasts.apple.com/us/podcast/million-dollar-coaches/id1451762282)
6. Natural born coaches
Natural-born Coaches is simply a perfect podcast that is designed especially for coaches belonging to different niches. The business podcast has been up and running since 2014 and it is pretty famous for delivering extraordinary results in coaching business development.
Marc Mawhinney is the founder and the host of this podcast who initiated this podcast to train coaches worldwide. The podcast has hosted 700+ episodes over the past few years, covering a wide range of topics.
Marc is a lifelong entrepreneur who belongs to a marketing background. With his podcasts, he helps coaches get high-ticket clients without spending a lot on advertising.
So, you should consider subscribing and listening to the podcast if you want to learn coaching strategies from experienced, trained and certified.
7. Coaches Rising Podcast
Coaches Rising was initiated in 2009 by two friends who have spent time in the coaching industry by training hundreds of people. The primary intention behind this organization was to train coaches in increasing their worth.
The podcast has already hosted 119 episodes, and the number is increasing quickly, with different episodes out every week.
One of the tremendous benefits of this podcast is different coaches that share their experience and train people. This makes the podcast beneficial for coaches belonging to various industries.
Moreover, some episodes also cover tactics related to upscaling coaching businesses online. These episodes share proven business growth strategies that have brought excellent results for the trainers.
So, if you are looking for a podcast that is capable of providing both technical and business knowledge, you should consider subscribing to it.
The podcast is available on Apple, Spotify, and the organization's website. (https://www.coachesrising.com/podcast/)
8. The Art of Coaching
Brett Bartholomew is the founder of "Art of Coaching." He is a fitness coach who has spent decades training coaches belonging to different fields.
Along with training, he also shares motivational stories to pump up the coaches. This helps them identify the right path for success and opens up their minds a lot more.
Brett has hosted 207 episodes on his podcast and it is available on different channels. You can subscribe to it or watch every episode live on the website. (https://artofcoaching.com/podcast/)
The downloading option is also available on the website, which is excellent for people who want to watch them without distractions from the internet.
9. The Health and Fitness Coach Success Podcast
The "Health and Fitness Coach Success Podcast" is hosted by Valerie Elhurr, who is a fitness and health coach. She is a marketing mentor who loves teaching marketing strategies to online coaches.
In her podcasts, she talks about different coaching techniques and marketing methods that can help in attracting new business. She also talks about internet marketing and how internet marketing can assist in business growth.
As a fitness coach, she knows how to train and mentor people for better fitness and health. Her podcast is an all-in-one package for people who want to learn marketing and coaching while becoming knowledgeable about fitness at the same time.
She has recently completed her 95th episode, all available on her website and apple store. (http://valerieelhurr.com/podcast/)
10. Coaching to Flourish
The "Coaching to Flourish Podcast" is hosted and organized by Coaching Education, which is a full-fledged educational institute.
The organization provides high-quality education to coaches that can help them grow through different methods. One of them is the podcast.
The podcast is streamed live on the apple store, Spotify and the official website of the organization. One of the primary specialties of this podcast is the presence of different coaches. (https://podcasts.apple.com/us/podcast/coaching-to-flourish/id1508404058)
Each episode is hosted by coaches belonging to different industries. This makes the podcast beneficial for every life coach.
Do you need certification to become a coach?
No, you do not need any certification to start as a coach. However, it is highly recommended to take the relevant certificate to get better at coaching.
You should consider coaching as a skill before you get into it. Otherwise, you will surely fail miserably and won't be able to attract new or existing clients.
Like any other skill, coaching also requires proper training and knowledge. You cannot claim yourself a good coach until you are not aware of its technicalities.
Moreover, coaching certification builds trust among clients and brings you up as a renowned coach. You can also use your certificate on different social media channels for personal branding.
Having said that, it is not necessary to take highly paid coaching certifications.
Since coaching is just a soft skill and your success depends on the technical stuff, you can consider taking an averagely priced certificate.
What are the Top Podcast Directories to Publish Coaching Podcasts?
Before discussing some of the top podcast directories, I would like to give you a rough idea of a podcast directory.
So, simply put:
A podcast directory is an application or website that streams and stores audio and video shows. It also creates separate packages for the complete podcast online hosted by someone.
Now that you know the basic definition of a podcast directory, let's discuss some of the best podcast directories available on the internet.
Although there are hundreds of podcast directories, only a few of them are worth considering for submitting your podcasts.
Listed below are the five best podcast directories.
iTunes
Spotify
Google Play Music
Stitcher
TuneIn
Coaching podcasts can help you grow as a professional, and you should consider listening to them for a daily dose of knowledge.
The list I shared above are podcasts that I personally prefer and would suggest choosing from them.
They will surely help you improve your knowledge and make you a better coach.
However, if you want to gain quick knowledge and cannot afford to spend hours watching previous episodes, our short-paid course can help you out.
We have created this course to enhance your coaching knowledge that can help you out in your growth as a coach.