Blog » Top Coaches » The Top Communication coaches
THE TOP COMMUNICATION cOACHES
A Communication coach is someone who helps an individual or group of people in improving their communication skills. A communication coach uses one-on-one sessions to help their client work on the fundamentals of effective communication. Communication coaching is similar to life coaching but focuses more on non-work-related communication. Communication coaching is an effective, holistic and multi-leveled framework for improving communication and leadership competence.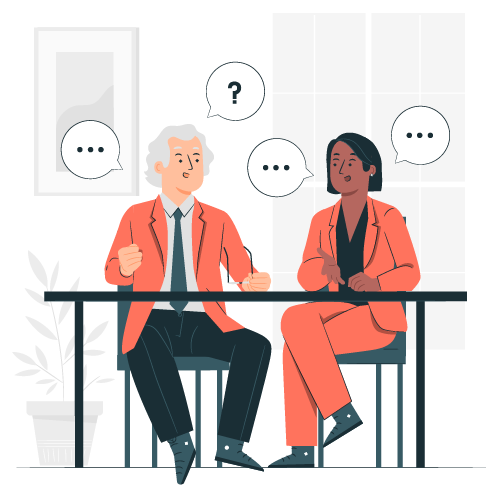 Communication coaching is used to improve communication skills in a variety of situations, including communicating more effectively at work to get projects done more efficiently, solving communication problems in a business relationship, improving communication with a spouse, improving communication with a parent or child, and enhancing communication in a dating relationship.
Each communication coaches, each with their distinguished style trying to help the clients on reskilling soft skills and enhancing communication techniques, and asked them what's remarkable about their coaching and what has endorsed their massive success.
Do you think you or a coach that you know deserves to be featured as a top communication coach? If yes, then fill out this form and we will consider your application and get in touch with you for the next steps.
Samantha is a CPCC Coach, an educator with 16 years' experience in the international school circuit, a photographer, award winning blogger and a mother of two grown daughters. Her years of teaching and living in 12 countries has led to a natural affinity to engage, listen and intuit what people want and feel. Samantha loves walking in both nature and ancient cities, finds the magic in the ordinary and loves bringing friends and family together over a beautiful meal.
What do you do differently or how is your coaching different from others?
I support people to open their eyes to greater possibilities so that they can break through obstacles and find clarity and purpose. But coaching is not just about self-awareness, It is about how that awareness can create an impact in both work and personal spaces. Coaching is not a conversation; it is a two-way partnership where we work in a safe space to peel back layers to get to a fundamental truth. Self-knowledge is the key to good leadership and in my coaching, I help you to understand your values, examine your priorities, vision your future and create an impact on the people in your life. My coaching uses the principles of positive intelligence, cutting edge neuroscience, co-active practice and reflective inquiry.
What according to you has been the single most important thing that has contributed to your success as a coach?
My training with CTI taught me that presence is more important than perfection. I employ all the principles of the science of coaching, the way to fulfillment, the use of balance and process, but my belief that every client has all the tools they need right there, inside them, that everyone is already whole, creative, and resourceful is the single guiding light in all my coaching sessions. Every one of my clients is now doing something different, big, or small, than before they began coaching. Transformation happens. My clients are better communicators and have a deeper sense of their who and why and this has impacted everyone in their lives.
Sandhyaa S Pillai is an Executive Communication Coach who has trained and coached more than 20000 leaders from different industries and varied domains including BFSI, ITes, FMCG & Retail. She has 22 years of industry experience working with multinational brands like American Express, HSBC, Dun & Bradstreet, and Fidelity, etc.
She has been awarded as the best Women's Communication Coach by a leading lifestyle publication.
Sandhyaa is the Founder of Sandhyacoach.com which has helped Aspiring Communication Coaches to launch their own coaching hustle through her One of its kind Executive Coaching Certification Program.
She is the Country Chair-G100 (Coaching & Training) and a Board Member of one of the leading Women Only Startup- Prayanaaa Labs(India)
What do you do differently or how is your coaching different from others?
My Signature 3A(Authority, Authenticity, and Audience) Program supports Leaders(team size of more than100) to overcome their communication barriers, handle inner fears and change their limiting beliefs by working closely on their unhealthy communication patterns, reframing their language, and creating a clear communication roadmap.
I help leaders understand themselves, their own communication, and leadership styles to help adapt to others' styles. I help them work on their own communication fears, inhibitions, and barriers to communicating with authenticity. My coaching conversations help them connect and engage with their teams in a way that inspires actions and impacts business results.
What according to you has been the single most important thing that has contributed to your success as a coach?
The single most important thing that has contributed to my success as a coach is my inner to outer approach to my client's problems. My ability to combine 4 modalities including Neuro Linguistic Programming, Positive Psychology, Emotional Resilience, and Leadership Behaviors in my coaching sessions has helped my clients get exceptional results.
My holistic and spiritual approach not only works on their unhealthy communication patterns from the inside out but also helps them create power habits that aid them in continuous improvement and growth
Johanna de Ruyter has been coaching for over 10 years and coached people in all levels of leadership around the world to deepen and ground in their authentic presence. Her career background is based in the performing arts and the translation of skills and principles from this knowledge base into communication development for leaders, teams, and individuals.
She has designed and delivered training programs for leadership communication and team effectiveness for groups in multinational corporate entities in finance, technology, pharma and other market segments. Her work as a Certified Coach is integrated into her facilitation of learning and in addition through one-on-one programs for leaders and individuals seeking results in their life.
What do you do differently or how is your coaching different from others?
My coaching starts with listening, the core of communication. Together we listen to the tensions and paradoxes stirring within you and listen for what is wanting to emerge from you. We arrive at your intention in giving this time to yourself. And together we collaborate to create a safe space in your life to pause and listen to yourself. This doesn't mean it is all mindful stillness and breathing deeply, no, we will talk, share stories, write, reflect, and sometimes move. Embodiment – bringing attention to your body is the often-neglected element to alignment of mind, body, heart, and spirit. This alignment is especially important when it comes to communication capabilities.
What according to you has been the single most important thing that has contributed to your success as a coach?
There is no single most important thing but there are a multitude of experiences and influences that combine to support my coaching. Some of these are my 35-year practice and performance of ensemble-based improvisation and particularly the style of improvisation – Playback Theatre. This practice heightens understanding of empathetic communication, because essentially theatre is all about communication. I learnt the language of stories here and to be responsiveness to the present moment to build upon what others offer to this dynamic moment to create coherent narratives, together. My 10 years' experience in translating and applying theatre skills to team cohesiveness and Leadership/Personal Presence which includes the use of Storytelling with leaders all over the world. Training in and training others to have Compassionate and Difficult conversations alongside many years practice in meditation, martial arts and yoga.
Rakel Baldursdottir is ACC certified coach by ICF, is a certified NBI Practitioner and a Whole Brain Coach. She is a Climate Change Coach and a board member of ICF Iceland Charter Chapter. A member of Markþjálfahjartað ( The Coaching Heart ) that works to improve coaching in the education system in Iceland.
She is also a founder of Markþjálfarjarðar ( Coaching for Earth) in Iceland and a co-founder and CEO of Abzurd ehf. She wrote a case study for the book Climate Change Coaching the Power of Connection to Create Climate Action, by Charly Cox and Sarah Flynn.
What do you do differently or how is your coaching different from others?
My coaching is based on basic competence elements of Coaching, science of wellbeing, neuroscience and Art therapy life coaching. With these methodologies, I help clients examine their mindset, and understand how the mind works. help the client find their skills and talents. What works best and how to get there.
By using Coaching towards action in climate change the process can become both more fun and more effective. Therefore I love to be a Climate Change Coach and truly believe that this greatest project of mankind needs coaching as well.
What according to you has been the single most important thing that has contributed to your success as a coach?
Using the basic skills, Core Competencies, and following the ethics along with practice, receiving regular training is what I believe to be the most important factor in my success. Research, continuing education and participating in the coaching community have also played a big part in my success.
Being involved and constantly learning new things and getting out of my comfort zone both professionally and personally has definitely led to success, it's also one of the things I encourage my clients to do.
TORI Personable, Practical, Cusomized Tori Hollingworth is an Executive Communication Coach and Presentation Skills Coach with nearly two decades of experience developing, leading, and teaching comprehensive communication training and coaching programs for both the nonprofit and for profit sectors.
Whether coaching one-on-one or facilitating a large group, Tori is recognized for utilizing her diverse communications knowledge to focus on pragmatic approaches to public speaking, corporate storytelling, sales training, leadership development and conference coaching.
As a Communication Coach, I'll lead you or your team through an actionable process to help you transform your presence and give you the ability to engage any audience. First, I'll evaluate your delivery to identify what might be getting in the way. Facial expressions, posture, body language, eye contact, voice inflection, and rate of delivery all contribute to how you're perceived.
Ashira Prossack is an Internationally recognized Communication coach, trainer, and speaker. She helps people learn to communicate with greater confidence, clarity, and credibility. She's an experienced coach, teacher, and leader with 17 years of coaching experience, 14 years of teaching experience, and 15 years in leadership.
She is a certified English as a Second Language teacher specializing in adult education. She brings this teaching experience to her communication coaching and training, combining best practices in both education and coaching to deliver a transformative experience to her clients.
Alicia Sedgwick is a professional Communications Coach, Corporate Trainer and Professional MC based in the Principality of Monaco, with an extensive background in the Entertainment and Events Industry. She teaches at the International University of Monaco as well as offering private coaching to Corporations, Associations, International Schools, and individuals.
Alicia is also a trained Mediator, specialized in conflict management. Alicia has hosted three TEDx Conferences, managed international press conferences for the London 2012 Olympics, and managed red carpets for the Laureus World Sports Awards. She has managed Talent Relations for the BBC Chelsea Flower Show in London, and in the "Green Room" of the World Music Awards.
Renée Marino is a professional communication coach named by Yahoo Finance as one of the "Top 10 Communication Coaches to Follow in 2021!" She was the co-host for Dean Graziosi's first-ever virtual "World Summit" and has spoken, performed, and been interviewed on thousands of live and virtual stages, including Dean Graziosi's podcast The Dean Graziosi Show.
I teach confident communication. I work with many different companies (Microsoft, Foster+ Partners, Redgate, Raspberry Pi, Creative Assembly) and I think they enjoy my training so much because: I'm an introvert* I make it fun. That second one is one I'm very proud of.
Training/learning/development can be a chore; I believe it shouldn't ever be that way. My background: I was a low-scorer academically. I studied art and design, then graphic design, got a job as a video game level designer, fell in love with performing stand-up comedy, became a full-time stand-up, didn't become a star so gave it up, went back to games and started a family.
John Ford is the best-selling author of Peace at Work and has written widely on the topic of conflict resolution, negotiation, and mediation especially as it applies to the modern workplace. His passion is coaching HR leaders to approach conflict with greater confidence and competence. He also produces practical yet powerful communication tools: The Empathy Set of Feeling and Needs cards and two unique Talking Sticks.
My success is grounded in my proven ability to both resolve conflict and teach others how to do it themselves. Just like a golf coach doesn't ask how you'd like to swing the club to achieve your goals, I am comfortable being direct and pointing out both the things you are doing well, but also alert you to your missteps. When indicated, I will ask you to take the Thomas Kilman Conflict Styles Instrument, the Conflict Dynamics profile, the DISC instrument and or the Myers Briggs instrument to support you gain greater insight into your current patterns.
There you have it, you've just read about the industry's top communication coaches.
What has been your biggest takeaway from this?
Let me know in the comment section below.
It's massively inspiring to see these coaches achieving so much; living a life of abundance and freedom while making a positive contribution in the lives of countless people.
Although apart from getting inspired by them, there is 1 more valuable takeaway you can gain if you simply observe each of these successful coaches.
And this is the secret to unlocking exponential income from your coaching — to treat it as a business.
We Start Coaching Because We Are Passionate. But The Reason Coaches Last Is They Treat It As A Business.
By leveraging technology, it's easier than ever to start your own online coaching business.
Our highest-rated course lays the necessary foundations for this for you. This is a paid course but you can register for FREE for a limited time here.
Do you think you or a coach that you know deserves to be featured as a top communication coach? If yes, then fill out this form and we will consider your application and get in touch with you for the next steps.