Blog » Top Coaches » The Top Christian Life coaches
The Top Christian Life coaches
A Christian life coach is someone who guides another individual to attain a certain goal by giving the right advice and the right support. They help you achieve your goal by providing the right advice and right support. This support is necessary to help you overcome your weaknesses and bad habits.
A Christian life coach will help you overcome negative things in your life and give you the right advice to stay strong and positive.
A Christian life coach is a person who helps you to reach your fullest potential by using biblical principles and spiritual truth. A Christian life coach is a person who takes the responsibility of guiding his client to the goals, that have been previously set.
Each Christian life coaches, each with their distinctive style trying to help the clients to meet individualized goals, and asked them what's extraordinary about their coaching and what has endorsed their massive success.
Do you think you or a coach that you know deserves to be featured as a top Christian life coach? If yes, then fill out this form and we will consider your application and get in touch with you for the next steps.
As a devoted Christian Mindset and Life Coach, I guide overwhelmed Christians to break free from chaos and connect deeply with God. With a focus on whole-body wellness, I empower individuals to cultivate consistent connection with God, gain clarity on their identity, and foster God-honoring relationships with healthy boundaries. My proven framework helps avoid burnout, reactive living, and damaged relationships, leading to lasting peace.
What do you do differently or how is your coaching different from others?
My coaching stands out through its Biblically rooted foundation, helping clients align with God's design. I empower them to break free from a victim mindset, take responsibility, and embrace the power of choice. By yielding control to God and laying down burdens, they learn to trust the Father and find peace amidst life's challenges. This holistic approach integrates emotional, spiritual, and physical well-being.
What according to you has been the most critical thing that has contributed to your success as a coach?
The cornerstone of my coaching success lies in nurturing authentic connections with God. By walking in the Spirit and embracing Biblically rooted concepts, I've developed a framework that fosters self-awareness, resilience, and a deep sense of identity. This enables my clients to see God clearly, understand their purpose, and set healthy boundaries, leading to transformative change.
Orchestrating Triumph in Podcasting and Faith-Fueled Entrepreneurship. Renowned for launching 200+ chart-topping podcasts, Ron shines as an industry luminary. As CEO of New Path New You Christian Clothing Brand and Soar Podcast Productions, he crafts influential narratives. A global speaker, he has empowered countless entrepreneurs with his insights, infusing Christian values into each endeavor. Ron Cool: Guiding podcasts to ascend and souls to soar.
What do you do differently or how is your coaching different from others?
I distinguish myself through a unique blend of expertise and Christian values in the podcasting landscape. My unparalleled mixing skills harmonize seamlessly with unwavering faith, crafting resonant podcasts. As the CEO of New Path New You Christian Clothing Brand and Soar Podcasting Productions, my leadership bridges entrepreneurship and spirituality. I have helped my Christian entrepreneurs clients surpass 10 million in sales combined, my approach not only creates chart-toppers but also uplifts souls, making me a beacon of authenticity and inspiration in the industry.
What according to you has been the most critical thing that has contributed to your success as a coach?
Through a strategic launch approach, I guide individuals to become the visionary leaders that align with their divine calling. As part of my coaching programs, I offer transformative leadership modules that blend practical skills with profound faith-based insights. This authentic integration fosters genuine growth in business and faith, resulting in empowered and purpose-driven leaders.
In 2005, she wrote her first book 20 Something 20 Everything and then The 20 Something Manifesto in 2008. Her latest best-selling book Expectation Hangover: Free Yourself from Your Past, Change Your Present and Get What You Really Want is the guidebook for how to treat disappointment on the emotional, mental, behavioral and spiritual levels.
Today, she supports individuals in answering the questions: "Who Am I, What do I want, and How do I get it?" Christine is a master coach who combines life coaching with the principles of spiritual psychology. She is passionate about supporting people out of suffering and limitation and into fulfillment. Her superpowers of intuition and compassion help people breakthrough challenges that at one time seemed insurmountable. Bottom line: she helps people get "over it and on with it!" with love.
I was an early adopter of coaching and attended Coach U (now CoachInc) under the founder of professional coaching, Thomas Leonard. Having studied Behavioral Sciences in college, I was curious about this new field of human behavior and quickly became a passionate student of professional coaching.
This was in the mid nineties, and the industry was starting to evolve. Thomas Leonard then launched another coaching school, Coachville, and I became a charter member of the organization.
Both of these coaching schools are highly reputable with rich coaching curriculum and I loved the courses and people. I found the concepts had more of a "new age/universal approach" to coaching and centered around a humanistic model of "I can do all things in my own strength." For me, there was an obvious critical component missing. Scripture teaches "I can do all things through Christ, who strengthens me." Philippians 4:13 I included my Christian values in the coaching process with my clients, and continued my path to complete formal Christian Coach training and Master Christian Coach training.
Over the years, Bonnie has been training and certifying life coaches and spiritual coaches around the world. As a Christian, she realized the need for a training program that would allow people of the Christian faith to train in an environment that honors God and gives credit to Him for the insight and wisdom of successful coaching.
Bonnie believes that, as Christians gather together to learn, God works in mighty ways and great things happen.
As a Christian Counselor and Life Coach, I equip and empower you to transform your life. I specialize in your personal and spiritual development. My goal is to help you grow in any area of your life where you are stuck. My mission is simple—to help you walk in ALL that God has for you.
Are you ready to defeat life's devils, grow in faith and answer the call of God on your life? Then it's time to take action. I'd be honored to walk this journey with you.
Eloise Collins is a Licensed Professional Counselor (LPC) and a Certified Christian Life Coach who specializes in working with children and adolescents. It is not easy being able to work with children because they are too vulnerable and also sometimes difficult to handle. Eloise Collins earned her BA in Psychology from Nicholls State University and MA in Professional Counseling from Liberty University. Her education has played a major role in making her such an amazing person who she is today.
Melanie has been successfully coaching individuals for many years, and enjoys helping others to achieve their God-given passions. She is branded as the Life Coach in Blue Jeans due to her down-to-earth, practical, and spiritual approaches to fulfilling the desires of the heart.
Melanie has also accumulated hundreds of freelance bylines, authored several books specifically for writers, and frequently speaks at conferences, churches and with other teams/groups on topics relating to the journeys of Christian women, discipleship, leadership, biblical topics and writing.
We all struggle with negative thoughts and we think they're no big deal. But that's not true.
Brain science proves that our thoughts affect every decision we make. For me, years of negative thinking resulted in a terrifying medical crisis that nearly took my life.

From the earliest age I found my worth in accomplishment + perfectionism. My inner "hustler" continued to dominate as I married, had four kids, started homeschooling and built my writing career. I found myself in a hamster-wheel world of 18-hour-work days and 4 hours-of-sleep nights.
Kendra Dublin is a Millennial Strategist, Author, Speaker and the owner of God's Perspective for Me® LLC. She helps Millennials release past wounds so they can turn their testimony into their ministry through Purposeful Preparation. Kendra's story of alcoholism has made her an expert in overcoming difficulties and making lifestyle changes. She wants to give hope where there is fear, and where pain resides is knowledge for achievement.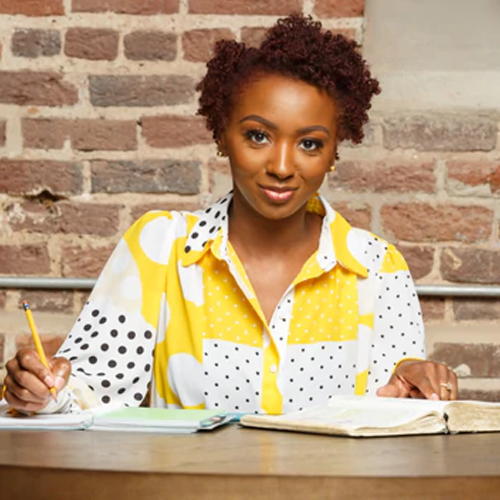 Talk about a broken mess! I was a full-of-fear, codependent, and over-responsible Christian woman.
The only thing I knew was to keep putting one foot in front of the other, but I kept falling down. I actually had no idea what life was doing to me until it was almost too late.
After 20 years in an alcoholic marriage, the verbal and mental abuse had taken a great toll.
After a startling wake-up call, I packed up the children and left. All I'd ever wanted to do was to keep my family together, but it wasn't possible. We just couldn't live this way any longer.
I was serving as the Children's Minister at my local church – and honestly, I was a prisoner to fear with no idea how to be set free from strongholds.
Dr. Traci Petteway is a phenomenal motivational speaker. She has been the featured keynote speaker on many occasions such as: National Conferences, Universities, Community College Districts, Public School Districts, Churches, Workshops, and seminars!
There you have it, you've just read about the industry's top Christian life coaches.
What has been your biggest takeaway from this?
Let me know in the comment section below.
It's massively inspiring to see these coaches achieving so much; living a life of abundance and freedom while making a positive contribution in the lives of countless people.
Although apart from getting inspired by them, there is 1 more valuable takeaway you can gain if you simply observe each of these successful coaches.
And this is the secret to unlocking exponential income from your coaching — to treat it as a business.
We Start Coaching Because We Are Passionate. But The Reason Coaches Last Is They Treat It As A Business.
By leveraging technology, it's easier than ever to start your own online coaching business.
Our highest-rated course lays the necessary foundations for this for you. This is a paid course but you can register for FREE for a limited time here.
Do you think you or a coach that you know deserves to be featured as a top Christian life coach? If yes, then fill out this form and we will consider your application and get in touch with you for the next steps.