Blog » Coaching Certifications » Professional Divorce Coach Certifications Online
Professional Divorce Coach Certifications Online
Divorce is a time-consuming and difficult process that is emotionally charged. The prospect of dissolving a marriage can be emotionally draining, especially for people with children.
People suffer from intense feelings that can prove difficult to cope with and impact their function in this period. The emotional impact of divorce often goes unnoticed, so obtaining professional support is necessary.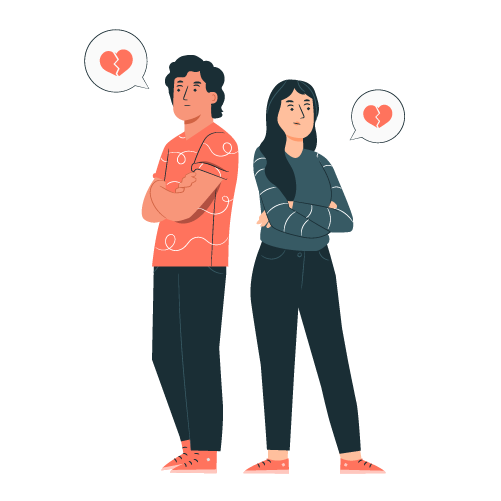 A divorce coach guides clients through the various stages of divorce. A divorce coach can help them overcome the various challenges they may face. To help clients achieve their goals, a divorce coach provides the right strategies. It is a novel profession that can offer invaluable assistance to many individuals. You can also become a professional coach and help people from this critical period. Professional divorce coach certifications online can help you become a successful divorce coach.
What Is Divorce Coaching?
The purpose of divorce coaching is to assist, motivate, and guide people going through divorce through a flexible, goal-oriented process. Based on their interests, needs, and concerns. It helps them to make the best possible decisions for their future. A divorce coach works with you and offers guidance and support during the divorce process. A divorce coach specializes in divorce, co-parenting, parenting planning, child development.
Divorce coaching helps people going through this tough phase of life. In this way, they can build the proper strategy to address all problems. Additionally, divorce coaching also helps people face the challenges that follow divorce.
Do You Need Professional Certification to be a Divorce Coach?
The purpose of coaching is to help people transform their lives somehow. One of these goals might involve becoming healthier, finding a relationship, etc. Even top surgeons and business leaders use coaches to improve their skills. This is why a coach must be professional, skillful, and experienced. Furthermore, they must be certified in their specialized field, ensuring authenticity and reliability. This is why divorce coaches need professional certification for their service.
Divorce coaches must have counseling experience to help spouses who are about to separate. Their specialties could range from psychology to multicultural counseling. They should learn a variety of approaches to counseling or psychotherapy. Because of this, a divorce coach must have a certificate before they begin coaching. Additionally, earning a degree in family therapy or another similar course can help them take their expertise to the next level.
Benefits of Professional Divorce Coach Certifications
To become a successful divorce adviser, you must need a divorce coach certificate. Many institutes around the world offer courses in coaching for individuals. You assure many benefits when you enroll for the divorce coaching education.
Integrity in Providing Professional Services
Honesty and sincerity are essential to integrity, and they should never be subordinate to personal gain. A coach's integrity is ultimately what establishes the client's trust in him or her. Integrity and principles cannot coexist with accidental errors or legitimate differences of opinion.
An effective coach will make sure that any information he or she provides to the public regarding his or her qualifications, services, and coaching process is accurate and truthful. This is why you need a divorce coach certificate to provide professional service in this field.
Personality Improvement
The Divorce Certification Course prepares you for the coaching role and enhances your personality. Leading, communicating, listening, and having a positive attitude are skills that the course will enhance.
A Stable Career Path
Professional divorce coaching is in endless demand by the corporate world. Divorce is a burning issue that people are facing. A professional divorce coach certificate can help you build a proper career on the field. A certified coach from a well-known coaching academy is taken immediately by clients. It helps clients rely on the person they get the advice from in the most crucial moment of life.
Future Scope
Divorce coaches are in high demand in corporate and individual fields, and it's not going anywhere. Earning a coaching certification can open doors to many career opportunities. You can also take different certifications to increase your knowledge. This will help you distinguish yourself from other people in the field and assist people completely.
Training and certification give you legitimacy and distinguish you from untrained coaches. Thus, clients are more likely to choose you if you are trained.
A training program will teach you how to assist clients through different stages of divorce. You will gain advanced knowledge to help your clients make better legal and financial decisions.
Professional Divorce Coach Certifications Online List
CDC
With CDC's Certified Divorce Coach program, you'll learn proprietary frameworks and acquire divorce coaching competencies. The organization has helped hundreds of individuals begin their careers as divorce coaches. The organization ensures proper standards, ethical guidelines, and processes for practitioners.
The course is intended for divorce professionals, including attorneys, mediators, coaches, mental health professionals, and life coaches. Those who have been through a divorce might leverage their experiences to become CDC. For them as well, this would be the perfect certification.
The CDC is the best organization for training and certifying personal divorce coaches. They provide a proprietary divorce coaching process and specific training. The certification will help you create a proper safe, non-judgmental environment for your clients. By leveraging your coaching experience, you can provide a high level of service to your clients.
Divorce Coach Institute
The divorce course institution offers a unique program designed to enhance your knowledge and expand your skill-set. You have the opportunity to participate in one-on-one strategy sessions and guide the independent study. You will be listed on their official website as a certified divorce coach by completing this certification program. This can help you to get potential clients to serve.
Divorce is a complicated process for those who have never been through one. They need a divorce coach most during this time. However, most professional coaches do not know how to guide couples through the treacherous terrain of divorce.
Professionals seeking to add divorce coaching to their list of services can take advantage of this course. This program will help you: Understand how to guide your clients. You can also assist them in resolving complicated financial matters. It is important to have a marketing strategy for both the divorced and the non-divorced public. This course demonstrates that too and helps you shine in this field.
The course will help me become a certified divorce coach and stand out in the field. You can enroll in the program anytime by just spending $500 per month. Some participants take 10 weeks to complete the program, while others take longer. This is truly a once-in-a-lifetime opportunity to become a professional divorce coach.
The Blackford Centre
The diploma in Divorce Coaching prepares you to work with people who are going through a divorce, helping them move forward. This course also prepares you to become a divorce coach. You will discover how to set up your practice and find clients. An integrated vocational and business course will prepare you to start your new career as a divorce coach.
The Blackford Centre offers nine comprehensive modules to assist you. It will help you to become a professional divorce coach from scratch. You will learn about the role, managing your client and helping them out from any type of obstacle. In this course, you will learn how you can help your clients deal with their relatives. The certification helps to become an effective divorce coach.
In addition to a library of workbooks, affirmations, and calming audio files, the course offers support for your clients. Once you register for the course, it is easy to access. All the materials are easy to understand, and you can use them whenever you want. How would you feel if you could help people cope with one of the most difficult experiences of their lives?
Light University
Light University offers only online courses. A total of 11 certifications are available at the school that is highly rated and effective. Their divorce certification coach program is highly regarded.
As a result of taking this course, you will assist others in their journey through grief and forgiveness. Moreover, this course will guide your clients regarding blending families and building new relationships.
There are more divorces today than ever before. The course will teach you how to help others walk through the process of grieving and forgiving. As a result of this course, your clients will be better equipped to build new relationships and blended families.
After a divorce, many people want to date or have significant relationships again. Unfortunately, there are many barriers to overcome. The course will help you assist your clients on those matters as well. Besides, you will build a complete guideline to help your client. People who want to become successful in the field can benefit from the professional divorce course certification from Light University.
HC Divorce Coach
It is the only program that qualifies you as a high conflict divorce consultant or coach. High conflict divorce cases are a global problem. Dealing with a narcissist in a divorce or child custody battle can be emotionally, psychologically, and financially draining. People facing narcissism in family court have very few options available to them.
First and only of its kind, the High Conflict Divorce Coach Certification Program offers certification in divorce coaching. This course offers training in high-conflict divorce coaching, consulting, and advocacy. A large number of professionals are needed in this industry. And the HCDCCP's eight-week certification program provides guidance, training, and hands-on experience. Graduates will have the skills and knowledge necessary to assist clients going through a particular phase.
Are Divorce Coaching Certifications Worth it?
After deciding to hire a divorce coach, people ask their attorney or friends for a recommendation. Many divorce coaches claim to be certified, and you will notice this as you search. It means they've taken a divorce coaching course. The requirements for coaching credentials vary greatly. Being certified makes you more credible, experienced, and professional.
It is always important to hire someone credible and qualified for the job. People want to know how they developed their expertise in divorce coaching. The certification can serve as a symbol of your abilities and professionalism. You cannot be evaluated without your divorce certificate when someone hires you as a divorce course instructor. So if you want to build a successful career in this field, you must obtain a a divorce coach certificate. Additionally, you will be able to make a profit from your divorce coaching business.
There is little likelihood that clients will trust a new name. Your training and certification are what will get you noticed. Training from a recognized institution gives you credibility, which leads to more clients.
How Much Does an Online Divorce Coaching Certification Cost?
There are so many courses online that you can enroll and start your journey to become a divorce coach.
You can enroll in your divorce coach certification program according to your need and budget. There are several types of programs that provide different types of services. Some programs cost you monthly, and some courses cost you on time. CDC charges $4,400 for 16 weeks in the Divorce Coaching intensive program. Divorce Coach Institute's divorce training program costs only $595 per month. Few courses don't charge for the certificate.
Which is The Best Professional Divorce Coach Certification Online?
A divorce coach must be certified to be successful. You can complete this course from offline institutions as well as from online. Now the question is, which is the best divorce coach certification online? Here are some factors to consider when choosing a course.
Fully Functional
You need to master your trade to be successful on the field. Training is necessary for that. You have to ensure the course covers all the issues people face during a divorce. Make sure your course helps you to become a successful divorce coach. The course must cover the topic of the post and pre-divorce issues.
Make sure the course covers the areas like how to guide your clients. You must learn how to handle your clients and deal with them. If the course does not cover all the aspects, it will not help you become a successful divorce course.
Certification
The most important thing is to think about it after completing the course to get a valid, authentic certificate. Because a professional certification will help you become an effective divorce coach, don't forget to look for the reviews and success rate of the course before you start.
Conclusion
Divorce does not simply end a marriage; there are some serious consequences. It also affects your child's well-being, finances, friends, and so on. A divorce coach can assist people in this difficult battle. Passion, courage, experience, and certification are essential for success as a divorce coach. Our professional divorce coach certifications online list will help you step into the field and start building a career.