Blog » How to Guides » Ladder of Inference: The Definitive Guide
Ladder of Inference
The Definitive Guide
Have you ever found yourself in a situation where you have been misunderstood and left wondering why someone else has interpreted something you said or did, and put a meaning on it that you never intended? Or have you ever been accused of jumping to conclusions?
Then chances are you have been climbing the 'Ladder of Inference' too fast.
The Ladder of Inference is a theory that implies every person has a different perspective and understanding of the same given situation.
Understanding your own and others' "Ladder of Inference" can help us make better decisions and also help evaluate the quality of a decision.
In this article, I will explain the Ladder of Inference in more detail, and show how you can use it.
So if you want to:
Avoid jumping to conclusions
Catch yourself before you act out of bias
Save yourself from unwise choices.
Avoid falling prey to confirmation bias.
Take appropriate fact-based action.
You're going to find this guide super useful!
I have put together well-researched tips in this guide so that you can avoid jumping to conclusions.
Let's get started.
Don't have time to read the whole guide right now?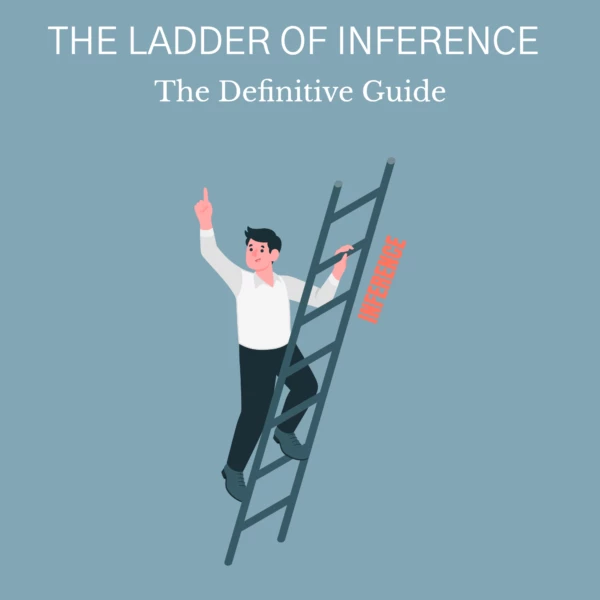 No worries. Let me send you a copy so you can read it when it's convenient for you. Just let me know where to send it (takes 5 seconds)
Yes! Give me my PDF
The Fundamentals of Ladder of Inference
How individual acts depends on how they perceive the situation they are in. People can come to very different conclusions about a situation, depending on what aspects of the situation they notice and how they interpret it.
In this chapter, I will introduce the fundamentals of 'Ladder of Inference', a model you subconsciously use to jump to conclusions.
What is the Ladder of Inference?
​​The Ladder of Inference is a mental model describing how we move from a piece of data through a series of mental processes to reach conclusions and take actions. It highlights how we select data, make assumptions, and draw conclusions that reinforce our existing beliefs.
The Ladder Of Inference provides a 7-step process, just like the steps of a ladder, that we use to make sense of situations to act. It describes the thinking process that we go through, usually without realizing it, to get from a fact to an assumption and action.
What is the origin of the Ladder of Inference?
The Ladder of Inference was developed by the American organizational psychologist Chris Argyris, a former professor at Harvard Business School, in 1970. Argyris developed the "Ladder of Inference" to describe how people form and sustain mental models. According to Argyris, people make assumptions in their daily lives. Those assumptions are necessary.
However, these assumptions could be wrong, especially when these assumptions are about the intentions or beliefs of others. In 1992, the Ladder of Inference became popular after being described in the bestseller The Fifth Discipline: The Art and Practice of the Learning Organization, by American scientist Peter M. Senge.