Blog » Becoming a Coach » How to become an Organizational Coach?
How to become an Organizational Coach?
For becoming an organizational coach there is a complete set of information that you must acknowledge first. To help you with this, we have prepared a complete guide on organizational coaching which begins with the answer to what actually organizational coaching is. Later on, in this article, we will also talk about the work roles of an organizational coach and the benefits of becoming one.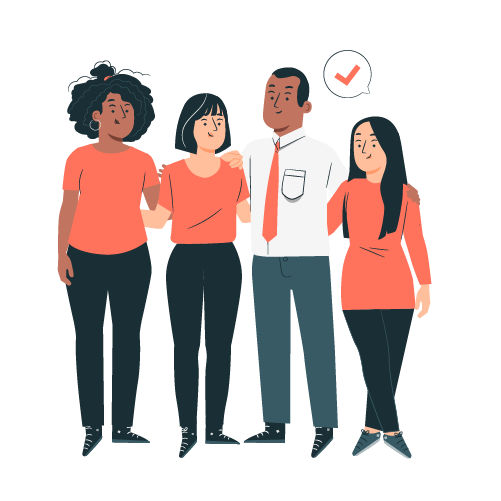 Then you can read about the proper step-by-step guide to becoming an organizational coach and the necessary qualifications required to become one.
After that we will talk about the must-have skills of an organizational coach, the required certifications and their average earnings. To sum up this guide we have shared some great tips for becoming an organizational coach in the end as well as answered some most commonly asked questions related to organizational coaching.
What is Organizational Coaching?
An organization's structural change is the goal of organizational coaching. There are many similarities between executive coaching and personal development coaching. Organizational coaching, on the other hand, typically includes team coaching (Organisational Coaching: Everything you Wanted to Know But you Were Afraid to Ask). A supervisor with his or her immediate reports is involved in team coaching.
Organisational coaching is an evolving field in and of itself. Organizations, for example, are progressively integrating technology with human resources in order to expand their operations. An in-depth look at the field of organisational coaching is provided in this article.
What does an Organizational coach do?
Organisational coaching focuses on human dynamics to help organizations improve via their employees, to work together to increase productivity, and build a happier workforce.
Organisational coaching, unlike other types of coaching, focuses on the teams that make up an organization. The purpose is to help them evolve by following the company's goals and objectives. As a result, organizational coaching projects can grow to be quite vast and complicated. Executive leadership and dozens of teams may be present.
Organizational coaching can assist in identifying and achieving corporate goals once business members have established structure. These training programs could cover topics like crisis management, profitability, and diversity and inclusion.
What are the benefits of becoming an Organizational coach?
Organizational coaching provides various benefits like unlocking the talent and sources of productivity as well as creating an empowered workforce. Moreover, it also helps with fostering behavioral and cultural change and improves business acumen and self-awareness (What are the Benefits of Coaching toan Organisation). Some other benefits of organizational coaching are discussed below.
1. Helps in Increasing Employee Job Satisfaction
As an organizational coach is responsible for maintaining the corporate system, the employees rest their trust in the coach for all their rights and duties. An employee is entitled to come to the coach for any kind of inconvenience at the workplace so that it gets resolved in time. This gives a sense of security and trust that enables the employees to focus on work rather than any other shortcoming in the system. The focus is extremely important for the productivity of a company.
2. Provide work engagement and a safe work environment
Monitoring the work and ensuring the safety of all the employees is a very crucial aspect of organizational coaching. You have to put yourself in the employees' shoes in order to understand their problems and come up with a reasonable solution. Whether be it any kind of physical mental or emotional threat to the workplace the coach must be aware of it through thorough engagement with the employees. Better communication, smoother the work management.
3. Boost in Job Performance
An employee stays loyal and dedicated to work when they are promised due respect and reward from their leadership. Acknowledging and appreciating the employees makes them want to work harder, and it is a very fair practice. In this way, you can succeed to build a positive environment and encourage others to try to give the best of their best.
4. Helps in rapid Business Growth
A business grows when there is a strong sense of achievement and growth as a team and not as an individual person. The communication between the leader and the other team members takes the business to a whole new level because it gives rise to great coordination and combined effort. Unity is strength, right? Hence rapid business growth is a sure thing in this scenario.
5. Higher Self-Regulation and Self Awareness
As one employee performs well above the mark, the other ones might take inspiration and eventually, the mark may be set a little higher than before. Learning is a never-ending process and it directs one to the path of growth. One who considers himself learned enough can never be truly successful.
How to become an Organisational coach?
To become an organisational coach, consider these points (How to Become a Coach: The Ultimate 9-Step Guide):
Understand what organisational coaching is; what it covers and whatnot.
Reflect on why you want to become an organisational coach.
Fulfil the additional education, training and certification requirements for your coaching.
Conduct a comparative analysis between different credential bodies.
Evaluate different coaching and certification programmes.
Pass your coaching test and earn the required hours.
Join a coaching club or offer to coach independently.
What qualifications are needed to become an Organisational coach?
For becoming an organisational coach, the required qualifications are (How to Become an Executive Coach: Everything you Need to Know):
125 hours of coach specific training through a well recognised organisational coaching platform.
10 hours of mentor coaching.
500 hours of coaching experience at least.
What skills are required to be successful as an Organisational coach?
The must-have skills of an organisational coach include teaching and training, guiding, counselling, learning, relating, questioning, listening, using intuition and creativity (9 Skills of a Great Organisational Coach). Some other important skills required for organisational coaching are briefly discussed below:
1. Active listening skills
Although all your senses must be active when you're working and leading a group of people, the game gets strong when you learn to understand the meaning of everything that you see and hear. You should be able to listen to the opinions, and problems of your coworkers first if you want to build a healthy relationship with them.
2. Verbal and written communication skills
Excellent verbal and communication skills enable the other person to judge your experience. Being equipped with these skills, you can achieve the right platform to express yourself and convey your message.
3. Leadership skills
A leader shall be the role model for the followers. They should practice their teachings rather than speaking about them as actions speak louder than words. For becoming a good leader, be an active and understanding team member first. Traits like empathy, communication, responsibility, dedication and motivation are also important.
4. Creativity and innovation
Using your creativity and coming up with an innovative idea makes you stand out in the crowd. To be exceptionally appreciated, you must trust your mental capabilities and work on polishing your skills.
5. Customer Service
Great customer service is what makes or breaks your business. Focus on the quality of customer service rather than the availability because it helps you achieve the standard that you are aiming for. Most of the customers make their minds based on how they were dealt with in the first place.
6. Administrative skills
Your administrative skills enable you to deal with any steep growth or lag phase and therefore you must have them polished whenever you get a chance. Communication, leadership qualities, convincing power and presentation are what define you as an administrator.
What are the certifications to become an Organisational coach?
The details regarding the certifications to become an organisational coach are discussed below:
The Organizational Coaching Certificate from the Master's Program in Learning and Organizational Change can be earned in one of two ways (MSLOC) (Organisational and Leadership Coaching Certificate).
By completing the four-course/12-month program as a graduate certificate student, you can obtain the certificate.
The program follows an alternative schedule option, which allows you to complete the certificate from anywhere in the United States.
You can also get the certificate while pursuing a complete master's degree and fulfilling the four-course sequence and other certificate criteria as part of your degree requirements.
Tips for becoming an Organisational coach
For becoming an organisational coach some great tips to consider include verifying the references of a third party coaching organisation and reviewing their coaching credentials and methodologies. Also, consider establishing a field of focus and hiring accordingly (Organisational Coaching: Everything you Wanted to Know But you Were Afraid to Ask). Some other tips to keep in mind are:
1. Gain proper Training and Experience
Even if you have a stack of degrees, it is of no use without experience and training. No matter what the pay scale is, learning the skill and training yourself counts as a bonus.
2. Find and define your niche
There is no point in sticking your nose to everything you feel attracted to. It is better to stay focused on one niche so that you can explore every aspect in one dimension. It helps you stay motivated and focused and you get to excel in that field.
3. Define a consistent pricing model
Make sure to design your pricing model in a consistent manner. Inconsistent pricing models are just inconvenient for the customers to understand. Make sure that your package pricings are varying in a specific tone to make it easier for the customers to choose the package.
4. Build positive relationships with clients to gain more referrals
Another most important thing for becoming a successful organisational coach is to build positive relationships with clients. This will not only improve customer trust, satisfaction and feedback but will also help you get more referrals.
How a leadership coach is different from an Organisational coach?
There are some significant differences between leadership coaching and organisational coaching. The most important of these include:
Leadership coaching involves individuals only whereas organizational coaching involves the whole organisation (How Leadership Coaching Helps Leaders Get an Edge).
Leadership coaching includes working with the leaders only but in organisational coaching, you have to consider all levels of the organisation.
Leadership coaching focuses mainline on improving leadership skills whereas organisational coaching mainly focuses on improving teamwork.
Conclusion
This was all about organisational coaching and how you can become a successful organisational coach. Make sure to keep these tips in mind when becoming an organisational coach to get the best results. Moreover, consider the skills required for becoming an organisational coach and work on their improvement for getting the most out of your organisational coaching.
Frequently asked questions
What does an Organisational coach do?
Organisational coaches help convert the tensions in an organisation from a corrosive to a constructive scale (Everyone Deserves to be Led Well). An organisational coach builds an aspiring and stretching coaching relationship to help the growth of the organisation at a suitable pace and in a suitable direction.
What are the benefits of becoming an Organisational coach?
Becoming an organisational coach is beneficial as it improves the self-awareness, resilience, collaboration, self-efficacy, communication, and mental health of the individual (Benefits of Coaching).
What are the qualities of a successful organisational coach?
Salary of an organisational coach?
The average salary of an organisational coach is $70,000 to $600,000 per year.