Blog » How to Guides » How To Become A Motivational Speaker: The Definitive Guide
How to Become a Motivational Speaker
The Definitive Guide
If it sounds exciting to move and inspire people with your words, then this is the ultimate guide you have been looking for.
Global figures in history, from Abraham Lincoln to Nelson Mandela, have stood testimony to the deep impact of powerful words and how they have moved people to action.
So if you want to:
Get started with becoming a motivational speaker
Find the right framework for your speech
Find out how to get speaking gigs, monetize your motivational speeches, and sustain and grow as a speaker
Learn how to earn ancillary income as a motivational speaker
You're going to find this guide super useful!
I have put together well-researched tips, and shared my own hard-earned experiences, in this guide to help you put your shoulder to the wheel.
Let's get started.
Don't have time to read the whole guide right now?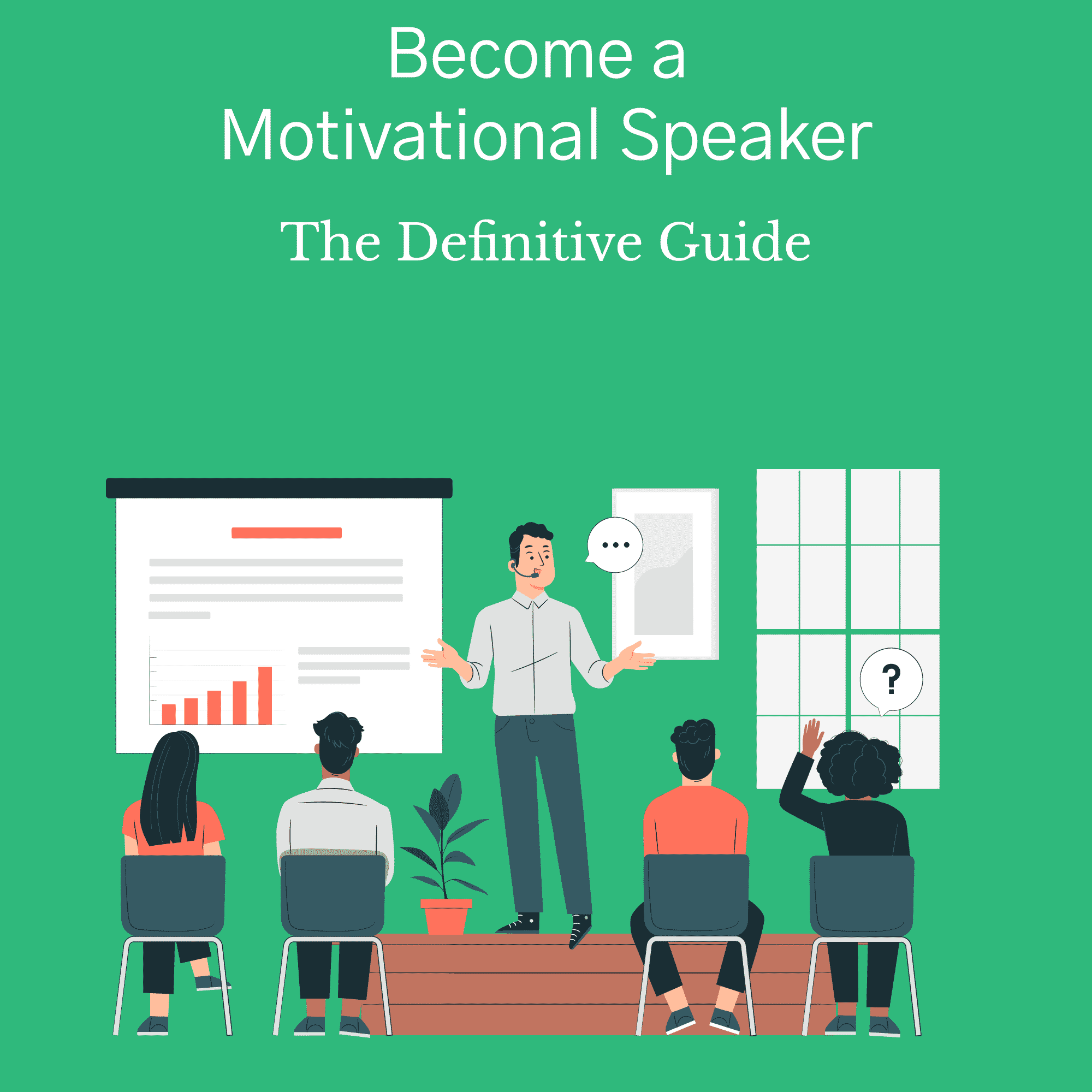 No worries. Let me send you a copy so you can read it when it's convenient for you. Just let me know where to send it (takes 5 seconds)
Yes! Give me my PDF
The Fundamentals of Motivational Speaking
The idea of motivating people to action has already fascinated you. But you might still be wondering – can I actually do this?
Here's the thing: yes, you can.
I am going to show you how those from all walks of life, and who have faced every disadvantage in the book, overcame all the hurdles they faced to become successful motivational speakers.
Consider taking a leaf out of their books and you, too, can achieve success as a motivational speaker.
In this chapter, I will tell you about who a motivational speaker is, and what it takes to become one.
What is a motivational speech?
A motivational speech is one that is designed to persuade or motivate people to take positive action to improve their personal and professional life.
It is a highly persuasive form of public speaking that builds an emotional connection with the audience to inspire and encourage them to take action.
Types of Motivational Speeches
Broadly speaking, here are three different types of motivational speeches:
Speeches Based on Personal Development
Speeches based on personal development are one of the most common forms of motivational speaking. These forms of motivational talk inspire people to find their life's purpose or follow their dreams.
They are mostly centered around overcoming hardships, finding the silver lining under adverse circumstances, finding acceptance, happiness, or rising above one's circumstances to live a fulfilling life.
2. Speeches Based on Professional Development
On the other hand, motivational speeches on professional development guide individuals, businesses, or entrepreneurs on how to advance in their vocation, how to stay motivated and find a bigger goal and purpose for excelling in their profession.
The speakers specializing in these kinds of motivational speeches are often entrepreneurs themselves or executives who have led large organizations to success.
During the Covid-19 pandemic, many large corporations have hired motivational speakers to boost the positivity and engagement of their employees working from home.
3. Religious & Spiritual Motivational Speeches
These speeches inspire people to answer to their spiritual calling.
More so, many motivational speakers also address societal issues such as women empowerment and motivate communities to take positive action.
Who is a motivational speaker?
A motivational speaker is a person who can motivate people to achieve their personal and professional goals.
They give inspirational speeches to large audiences, inspiring them to look at things from a different perspective.
Almost all motivational speakers use their personal experiences in their speeches.
For example, they might refer to an obstacle they conquered, adversities they faced, or stories of triumph to drive homemake a point.
Through personal anecdotes, they seek to connect with their audience on an emotional and psychological level. A good motivational speech speaker can leave a profound impact on the audience as it inspires people to look at the positives in life.
Humans are driven by both intrinsic and extrinsic motivation.
Intrinsic motivation, also called self-motivation, comes from within. While eExtrinsic motivation, on the other hand, is something that is external.
A good motivational speaker not only offers extrinsic motivation, but also empowers the audience to find their intrinsic motivation.
Who can become a motivational speaker?
The simple answer is anyone.
One of the requirements to be a successful motivational speaker is to have an innate belief that you can help people change their lives for the better.
There are many motivational speakers who have defied all odds to become successful and set examples for others.
Take — for instance — Simon Sinek, a very successful business speaker.
Sinek is a self-described introvert but that didn't stop him from facing a crowd of hundreds of people who packed auditoriums to hear him speak.
Even physical disability did not come in the way of some of the most successful motivational speakers.
Born without arms or legs, Nick Vujicic overcame his disability and went on to become the most inspiring speaker.
Lizzie Velasquez faced cyberbullying as a teenager for her appearance. She was born with a rare congenital deformity that prevents her from accumulating any body fat. From being called the 'World's Ugliest Woman,' Velasquez went on to become one of the most inspiring speakers.
There are speakers who have faced financial hurdles and yet scripted their own rags-to-riches story.
Eric D Thomas was homeless and broke before he decided to take charge of his life and complete his studies; Chris Gardner was homeless while raising a toddler son. He became a stock broker and even founded his own brokerage firm.
Some successful speakers like Ray Dalio hold an MBA from Harvard Business School, while some speakers like some didn't even finish college.
All the above examples show that skill and talent are not the only reasons they achieved their big dream. They believed that their words and story could motivate people to take action.
Your job as a motivational speaker is to empower your audience so that they can realize their true potential.
If you believe that your story and speech can inspire others, then you are ready to begin your journey of becoming a successful motivational speaker.
Everyone has a story to tell, but not all stories are inspiring enough or compelling enough for people to listen to them.
If you look deeper, you will see that all of these speakers mentioned in the previous section have certain experiences which make their speech special — from stories of overcoming adversity to incredible feats they have achieved.
So how do we find that compelling story to tell?
In this chapter, I will guide you through the process of identifying your stories, and help you figure out what you can talk about as a motivational speaker.