Blog » Top Coaches » The Top Grief coaches
THE TOP GRIEF COACHES
A grief coach offers guidance to people that are dealing with grief, loss, or bereavement. One of the most difficult challenges people go through is losing a loved one. A grief coach helps people adjust to death and get through the process.
A grief coach is a specialist who works with people to help them get through their bereavement process.
He comes alongside those who are grieving and helps them to adapt to their loss, to grieve, and to learn how to live with their loss. A grief coach will help if you are stuck or lost in your grief. They understand that grief is a bi-directional process.
Each grief coaches, each with their varied style trying to help the clients lessen their sorrow by including values in their lives, and asked them what's extraordinary about their coaching and what has endorsed their massive success.
Do you think you or a coach that you know deserves to be featured as a top grief coach? If yes, then fill out this form and we will consider your application and get in touch with you for the next steps.
Chandan Singh-Beatty is the founder and CEO of Beyond Grief Coaching. She has a Master of Arts (MA) in Adult Education and is an Accredited Associate Coach (ACC) through the International Coaching Federation (ICF). She is a regular guest speaker at the Institute for Life Coach Training's Grief Coaching Class and is a co-founding member of the Grief Coaching Network. She is currently pursuing her MA in Counselling Psychology.
What do you do differently, or how is your coaching different from others?
I support those experiencing grief and loss in their lives to navigate this challenging time so that they can move through it, get to the other side of their grief, and live their lives fully and whole-heartedly without guilt, bitterness or being stuck in it. My coaching is based on respect and creating sacred space for clients so that their experiences are honoured, and they feel validated and not alone in their grief journeys. This helps them to honour their loss, integrate it into their lives and move forward by setting realistic, attainable, and meaningful goals.
What according to you has been the single most important thing that has contributed to your success as a coach?
The most important thing contributing to my success as a coach has been being present with my clients as they share, asking them powerful questions and incorporating art activities into my sessions. My clients have appreciated and attributed their ability to move forward and find meaning in their lives again because of my coaching style. With my support, they have achieved their goals and are thriving.
Brooke James is a highly respected podcaster in the field of grief and loss based in New York City. She is a sought-out grief educator who consults with companies and organizations seeking to create empathetic and supportive work environments, particularly during this time of unprecedented loss.
She is a coach and independent advisor who founded her own consulting agency to offer social media, branding, and operations services for small businesses and local organizations. She previously worked in technology and management consulting specializing in financial services. Brooke holds a B.A. in Economics from The George Washington University.
On Sunday 11th September 2016 our world fell apart. I lost my husband, and my children lost their dad. Simon was a strong, witty, loyal man full of integrity. He was a wonderful father, husband, son, brother and friend.
The shock and devastation left us in complete turmoil. I didn't know how life would continue – or even if I wanted it to sometimes. It just felt too hard and utterly impossible.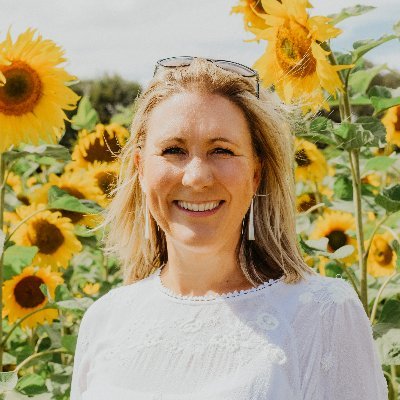 Through all of this I had to try and comprehend what had happened, figure out how best to support my grieving children and to get up every morning and face a life I hadn't planned nor wanted. There was suddenly a gaping hole in my life. The pain, the sadness and the despair were overwhelming, physically and emotionally. I was scared, vulnerable and also lonely.
Jenny stands as a lighthouse for people in grief. Her naturally calming and soothing personality brings a sense of peace and security to those around her. Jenny's journey as a Grief Coach began when she sat with a friend days after her husband's sudden death. Holding that space for her unlocked and ignited a passion for supporting others in their grief.
Another pivotal experience for Jenny was guiding a friend through the grief following her sister's death by suicide. Jenny's ability to appreciate both the darkness and the light guides others to move forward with their grief, create a new normal for themselves, and build a relationship with Grief and Gratitude. Jenny is the founder of Grieving Coach and host of the podcast Share Your Story where we explore humanity one soul at a time.
Jill Smolowe is the author of the memoirs Four Funerals and a Wedding: Resilience in a Time of Grief and An Empty Lap: One Couple's Journey to Parenthood, and co-editor of the anthology A Love Like No Other: Stories from Adoptive Parents.
An award-winning journalist, she spent 30 years meeting tight deadlines as a foreign affairs writer for Time and Newsweek, and a senior writer for People.
Her articles have also appeared in The Washington Post Magazine, the New York Times, the Boston Globe, More, Money, Red [UK], Bark, Adoptive Families and the Reader's Digest "Today's Best NonFiction" series. Her essays have been featured on Fortune.com, Time.com, SheWrites.com and EverydayHealth.com, and appear regularly on the PBS site NextAvenue.org.
I founded my practice, Shadowlands Grief and Eldercare Coaching, to help people face the far-reaching impact of a loved one's death.
I help adult children, spouses and significant others, and other family members reconcile this difficult experience. I also support family caregivers who are coping with the anticipatory grief and daily stress of caring for a loved one who's at end of life.
JESSE PARIS SMITH is a writer, activist, musician, producer, and co-founder of Pathway to Paris. She has been composing, performing, recording, touring, and collaborating with other musicians and artists globally since 2004. Her main instrument is piano. She was born in Detroit, and spent her early childhood in St. Clair Shores, Michigan. She currently resides in NYC.
She is a graduate of the Sound and Music Institute, a professional training focused on integrative practices of therapeutic music and sound. She also studied Performance Wellness with the late Dr. Louise Montello and cannot imagine life without being forever changed by this transformative practice. She is also a certified Grief Coach and this is a topic very dear to her heart.
Cathy Cheshire learned to be resilient after the death of her only two children, divorce, abuse, loved ones with addictions, relatives trying suicide, and estrangement from family. After researching the diverse work of over 230 experts including, she used her business degree, healthcare leadership experience, life coach certification, and grief therapy training from the Portland Institute for Loss and Transition to become a grief educator.
Cathy created the Master Grief Coaching and Online Certification program as an option for affordable comprehensive and concise grief training.
My interest in psychology and personal development started when I was a young teenager, I took my first Life Coaching course in 1996 when the profession was still in its infancy before going on to study psychology in University. I decided to explore the world and my journey took me all over, working and in countries like Vietnam, Malaysia, Australia, Poland and Spain- where I finally settled.
Having spent over a decade teaching, training and facilitating I decided I wanted to reconnect to my passion for psychology in a different way. I learned that coaching had matured into this amazing profession that really spoke to my values and my vision for what I wanted to create in the world as well as how I wanted to serve. So I retrained as a Life and Grief Coach and I hold the ICF´s ACC accreditation.
Nesreen Ahmed, Founder and CEO of Harbor Light Coaching, specializes in grief, loss, and major change. She is committed to providing transformational coaching and helping clients find peace after a loss, divorce, or illness. She supports them in addressing their mindset, overcoming the hurdles of grief, and completing what's unfinished.
Nesreen is a PCC certified coach (ICF), a Certified Positive Intelligence Coach, and a Certified Grief Educator.
What do you do differently or how is your coaching different from others?
I offer clients a proactive approach to grief that combines much of my different trainings and experience over the years. My work is to be a partner in the grief journey, helping clients do all that they can in order to move through grief with grace and compassion. That often includes learning, reading, writing, and doing the deep heart work of forgiveness, releasing guilt, and building stamina, hope, and resilience. Coaching around grief is unique and requires a balance of empathy and accountability, firmness and patience. I strive to find that balance with each new client.
What according to you has been the single most important thing that has contributed to your success as a coach?
The most important thing is my belief that every client is a superhero who's forgotten their superpowers. Grief is profound and affects us to our core. It can bring us to our knees and make us forget our ability to stand. I certainly felt that way when my sister died suddenly in 2013. But in order to do the grief work necessary to heal, in order to walk the grief journey, we need others who see us as inherently strong and capable, not as wounded or a victim. We need to be reminded of our superhero powers. That, above all, is my commitment to clients.
Emma is a seasoned technology entrepreneur, MIT graduate, and award-winning change-agent, who started building online communities before Netscape was born. Her 25 year career leading online and mobile projects has included building tools to register young people to vote, creating online networks of support for families facing health challenges, and launching North America's first online crisis intervention line. She also founded a scrappy, action-oriented, national non-profit focused on women & technology, that broke boundaries and developed leaders for 17 years.
There you have it, you've just read about the industry's top grief coaches.
What has been your biggest takeaway from this?
Let me know in the comment section below.
It's massively inspiring to see these coaches achieving so much; living a life of abundance and freedom while making a positive contribution in the lives of countless people.
Although apart from getting inspired by them, there is 1 more valuable takeaway you can gain if you simply observe each of these successful coaches.
And this is the secret to unlocking exponential income from your coaching — to treat it as a business.
We Start Coaching Because We Are Passionate. But The Reason Coaches Last Is They Treat It As A Business.
By leveraging technology, it's easier than ever to start your own online coaching business.
Our highest-rated course lays the necessary foundations for this for you. This is a paid course but you can register for FREE for a limited time here.
Do you think you or a coach that you know deserves to be featured as a top grief coach? If yes, then fill out this form and we will consider your application and get in touch with you for the next steps.