Blog » How to Guides » How to Become an Animal-Assisted Therapist: The Definitive Guide
HOW tO BECOME AN ANIMAL-ASSISTED THERAPIST
The Definitive Guide
Don't have time to read the whole guide right now?
No worries. Let me send you a copy so you can read it when it's convenient for you. Just let me know where to send it (takes 5 seconds)
Yes! Give me my PDF
CHAPTER 1:
The Fundamental
We are lucky to exist in an era when mental health, as well as other kinds of disabilities, are slowly becoming destigmatized and starting to be openly discussed and addressed.
We, as a society, are moving towards being more accepting, and finding ways to make the lives of disabled people easier; to help them adapt to a society that is otherwise dominated by and geared towards those who are physically and mentally able.
So we are constantly finding ways to adapt various therapy techniques to make sure each person has a proven, yet unique, therapy method suited to their needs.
One of these therapy treatment methods is Animal-Assisted Therapy.
The reason successful therapists are able to combine their love for animals with a rewarding career is that they treat it like a business.
What does that mean?
Let me walk you through every step of the process, with examples of people who have made it big, to boot.
But before we get around to that, let's make sure you have your fundamentals straight.
What is Animal-Assisted Therapy (or Pet Therapy)?
The first question you might have is, "What exactly is Animal-Assisted Therapy?"
Is it just sessions where people can play with animals, and pet them to feel calmer and happier?
Can you use your pet cat as a therapy animal? After all, she's so loving and everyone who pets her feels so much calmer.
Well, not exactly. Yes — in part, Animal-Assisted Therapy (also known as Pet Therapy) uses animals, sometimes even pets, for therapy.
But, primarily, what makes it stand out is that animals are strictly used in goal-oriented treatment sessions.
These goals can range from physical to mental, and emotional to social. Each session has a predefined goal which the animals, along with the therapist, help the client achieve.
The animal, even if it is a pet, needs to be extensively trained before it can be used to assist in therapy.
For Physical Health
Although not as common as mental health therapy, in recent years, therapy animals have been being used in physical health therapy as well.
These therapy sessions are considerably different from — and a bit more complicated than — mental health therapy sessions, but have shown to be effective.
There has not been as much research on this as much as there has on mental health therapy; however, it has been shown helpful to assist conditions like:
Epilepsy
Heart failure
Pain from cancer treatment
Postoperative recovery
Recovery after a major stroke, or another condition that causes a person to lose motor skills
Animal-Assisted Therapy, in such cases, has the twofold effect of achieving all that mental health therapy achieves (such as relief from stress, improving mood, balancing emotions, etc.), in addition to helping physical conditions.
Physical conditions in these cases usually revolve around motivating the client to exercise and move as often as possible and assist in movement. The therapy animals are trained in a way to assist, and not be a nuisance while moving.
Additionally, many long-term care facilities for chronic diseases and illnesses offer therapy animals to be used for these "double-fold" effects.
Many times, people in such facilities need the motivation to add movement to their routine. Animal-Assisted Therapy helps switch routines up and it also helps with mood and emotional stability.
Animal-Assisted Therapy is also being extensively used in elder-care facilities. Many elderly people feel abandoned and, hence, therapy animals help them cope with depression.
A study mentions how apart from the mental health aspect, Animal-Assisted Therapy is beneficial in elderly-care facilities because a lot of the residents develop simple routines like taking the therapy animal (usually dogs) for walks, playing with them, and talking to them.
These routines help the residents feel connected with someone as well as motivate them to continue their exercise habits.
What does an Animal-Assisted Therapy session look like?
The answer to this lies in first identifying the individual needs of the client, and dividing those into small, achievable, and measurable goals.
These goals, of course, change according to the condition and the type of help a person needs.
Since Animal-Assisted Therapy can be used for both physical and emotional therapy, examples of therapy goals can include (but not remain limited to):
Providing comfort and reducing levels of pain,
Improving movement or motor skills, developing social or behavioral skills, increasing motivation toward activities such as exercise, interacting with others, etc.
Animal therapy in itself has two halves, as such; the handler and the animal. More often than not, the handler of the animal is the owner of the animal itself.
There are many institutions that train and certify handlers, as well as connect them to healthcare providers. The handler works closely with the doctor to help the client achieve the goals of therapy.
Before being certified and matched, the handler and the dog will have to pass various checks and certifications allowing them to work as therapy providers under doctors.
The handler's coursework for the certification includes, but is not limited to, courses on how to interact with people, being professional, and the types of therapy they can provide, since not all animals can provide all kinds of therapy.
The animal also has to be verified and checked.
Most of the checks and certifications for animals include temperament testing as well as the ability to stay focused on the task at hand.
Additionally, the animal is rigorously checked for vaccination records and other tests, to verify that it is healthy and free of any diseases/disease-causing agents.
After these individual checks and certifications, the animal and the handler have to go through various checks and certifications as a pair.
These tests mainly include obedience training, safety checks, mock sessions, etc. This is to ensure that the pair is behaving in the most professional manner, and is not a health hazard for any or all parties involved.

This entire process is long but is extremely rewarding, as when one passes these checks and starts assisting therapy sessions, they truly understand the magnitude of the effect that Animal-Assisted Therapy can have on bettering clients' lives.
What Animal-Assisted Therapy is Not
One of the most important things to understand during this process is the differences between what a therapy animal is and is not.
The most important difference is that a therapy animal is not a service animal. This means that therapy animals are not certified to enter places where animals are not allowed.
Therapy animals are allowed in places where regular pets are allowed, as well as in hospitals, schools, libraries, etc., which allow therapy animals.
Unlike service animals, therapy animals are not allowed in business institutions; these include hotels, cinemas, theatres, etc.
In a sense, therapy animals are closer to being treated as pets, when it comes to entry into public places.
Another thing to remember is that a therapy animal is always supposed to be accompanied by its handler.
Since not all clients are handlers of the therapy animal, they will see the animal only during sessions.
Essentially, it means that the client may not have access to the therapy animal at all times, unlike service animals.
Just like service animals, therapy animals have restrictions too (albeit far fewer) about who can pet them and how and where they can be petted.
Remember — therapy animals are at work, and so, just like it is incorrect to disturb a person at work, it is incorrect to disturb a therapy animal at work by petting it or distracting it in other ways.
Some Famous Therapy Animals Around the World
One of the most famous examples of a therapy animal is Oscar the cat.
Oscar gained fame in 2007 in the US and abroad for his uncanny ability to predict death in terminally ill patients.
He was known for cuddling the patients and helping calm them down till they passed away, after which he would quietly leave the room.
Another famous therapy animal was Spartacus.
He was the first on scene at the Sandy Hook Elementary School shooting in 2012 in the US.
He was able to provide comfort for the traumatised students, teachers, and first responders for months.
The US also passed a law after this incident which now makes it possible for the victims/survivors to have access to therapy animals within 24 hours of the incident.
One more curious example of a therapy animal is Buttercup, the pot-bellied pig. She helps autistic children improve their social skills, and — in one heartwarming incident — one severely autistic boy even spoke to his classmates for the first time after stroking Buttercup.
Benefits and Uses of Animal-Assisted Therapy
Now that we have all the basics straight, let's dive deeper into some of the nitty gritties of Animal-Assisted Therapy.
I mentioned earlier that Animal-Assisted Therapy is used to assist in relieving conditions associated with both physical and mental health.
But what are the exact benefits of using this type of therapy for each aspect?
Let's get straight to it.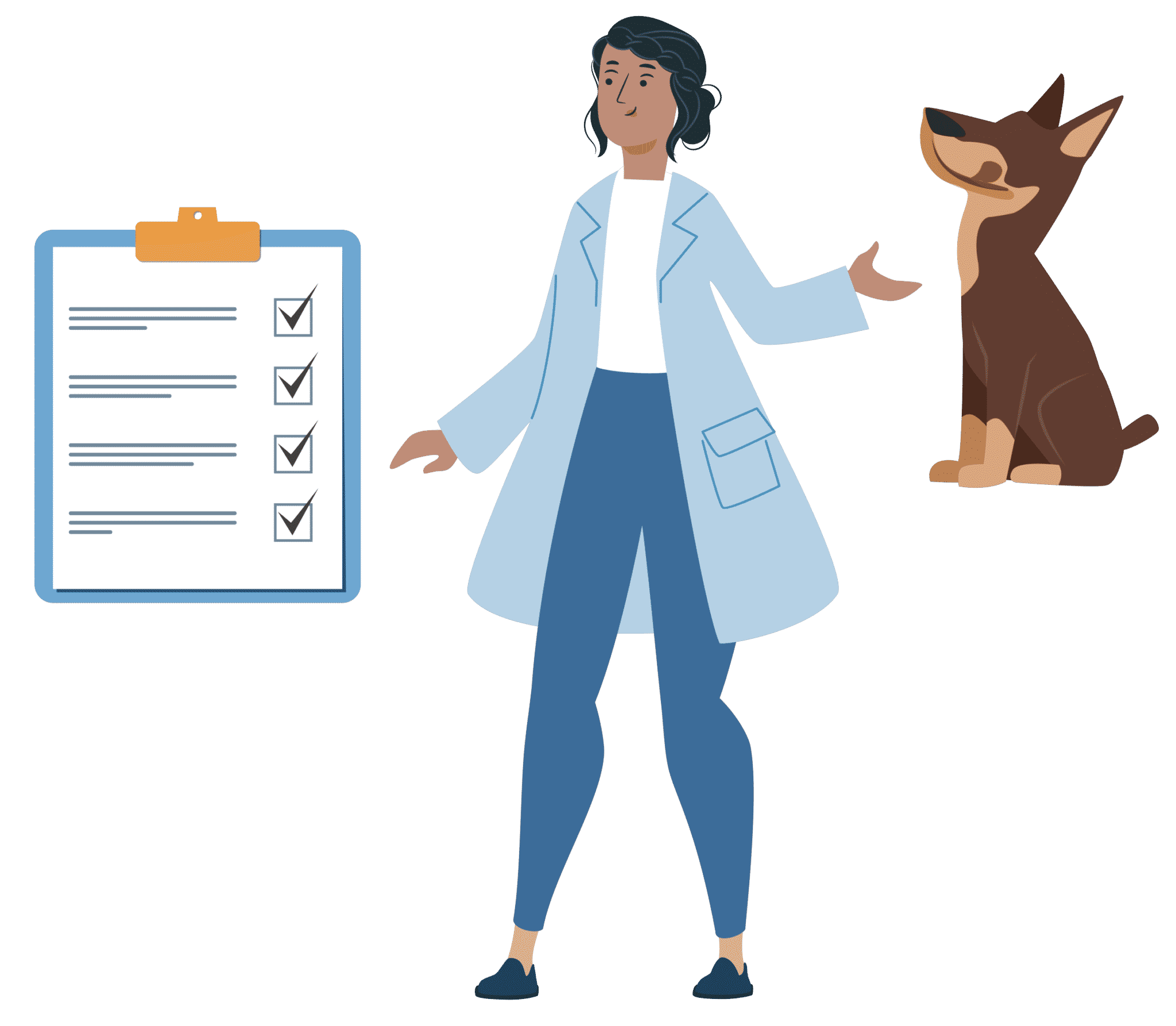 When you sign up, you'll also receive regular updates on building a successful online business.